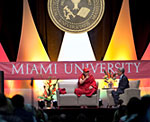 The Dalai Lama on stage at Millett. Photo by Scott Kissell
Successful visit by the Dalai Lama
Oct 22, 2010
About 11,750 Miami students, employees and regional community members heard Thursday afternoon's lecture of His Holiness the 14th Dalai Lama at Miami University. Of those, 10,450 heard him in person at Millett and about 1,300 saw it at streamed large-screen venues at Hall, Finkelman, Parrish and Voice of America auditoriums. Another 530 attended a small morning program at Hall Auditorium.

Combined with a Wednesday visit to Cincinnati, it was the first visit to southwest Ohio by the Dalai Lama.

Miami has had an academic relationship with the Tibetan people via a Tibetan studies program in Dharamsala, where the Tibetan government resides. Also, Miami's Armstrong Interactive Media Studies (AIMS) program has been working on at least three projects for the Tibetan people.

At the morning program, Miami President David Hodge presented the Dalai Lama with an honorary doctorate; Daryl Baldwin and representatives of the Miami Tribe presented information on the Tribe's history and relationship with Miami and a sung greeting; Trustee Harry Wilks presented the Harry T. Wilks Award for International Leadership in a Changing World to the Dalai Lama; and Glenn Platt, C. Michael Armstrong Professor and AIMS co-director, along with two students from AIMS presented the progress the AIMS group has made on projects for the Tibetan people.

The AIMS presentation included an online Tibetan Language Learning Program, display of digital archiving of Tibetan documents, and a virtual mandala that the Dalai Lama was able to experience with 3D goggles.

After hearing of Miami's work for language reclamation with the Miami Tribe and of its work for Tibetan language and culture preservation, the Dalai Lama told a guests at a reception that Miami was working to bring harmony to the world.
The Dalai Lama Millett Hall talk is now showing on MUTV, channel 15 on campus and in Oxford on Time Warner Cable. It is scheduled to run (1 hour and 35 minutes in length) at 8 a.m., 1 p.m., 4:06 p.m., and 9 p.m. each weekday.  Photos of the Dalai Lama's visit also will be posted.  Photos of the Dalai Lama's visit also will be posted.