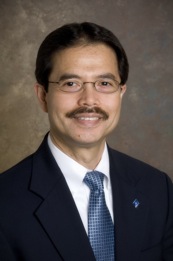 Conrado "Bobby" Gempesaw
Bobby Gempesaw to be new provost at Miami
Nov 19, 2010
Conrado "Bobby" Gempesaw, dean of the Lerner College of Business and Economics at the University of Delaware, has accepted the position of provost and executive vice president for academic affairs at Miami University, beginning May 1, 2011.

Gempesaw has served as dean since 2006. A professor of economics, Gempesaw has research and publishing interests in financial simulation analysis and modeling, higher education administration, agribusiness economics, marketing and international trade.

"Dr. Gempesaw is an accomplished scholar and administrator, and a passionate teacher. At Delaware, he has compiled an extraordinary record, serving as a professor, department chair, vice provost for academic and international programs, interim dean of the College of Arts and Sciences, and dean of the Lerner College. He is widely praised for his innovative thinking, his ability to build consensus and accomplish goals, and his deep commitment to student success," said Miami President David Hodge. "Dr. Gempesaw will bring creative thinking, visionary leadership, and strong management skills to Miami during a time of great change in higher education."

"I am deeply honored and humbled to be given the opportunity to serve as the next provost of Miami University," Gempesaw said. "I am grateful for the confidence and support of all those who participated in the search process. I look forward with much enthusiasm to collaborating with the faculty and administration, students, staff, alumni and friends of this outstanding university."

As dean, Gempesaw served as leader of the Lerner College's five academic departments and five centers, 120 faculty and 3,500 students. He also managed the college's more than $55 million budget under responsibility-based budgeting.

During Gempesaw's tenure, the Lerner College witnessed unprecedented growth in undergraduate and graduate student demand and selectivity. The Lerner College also hired 28 new faculty members, 17 of whom were women or members of the protected class. As vice provost, Gempesaw was responsible for the Division of Professional and Continuing Studies. He led the division to an unprecedented seven years of record revenues. He was also instrumental in the founding of the Center for International Studies in 2001, which led to the university's recognition as a top study abroad institution in the nation.

He has published more than 100 papers in various academic journals, proceedings and book chapters including the American Journal of Agricultural Economics, Production and Inventory Management Journal, Applied Economics, European Review of Agricultural Economics, and Decision Sciences Journal of Innovative Education. He has also contributed to these journals and others in editorial or manuscript review capacities and served as an editor of the Agricultural and Resource Economics Review.
Gempesaw, a member of the Delaware faculty since 1985, served as interim dean of the College of Arts and Sciences from 2004-2005 and vice provost for academic and international programs from 1999-2006. He served as chairperson of the department of food and resource economics in the College of Agriculture and Natural Resources from 1993 to 1999, and in 1995, he was given a joint appointment as professor in the department of economics. Previously and in 1997 he taught at Ateneo de Davao University, Philippines where he was awarded a Rotary Foundation Award for University Teachers to Serve in Developing Countries. In 1998, he taught at the Polish-American Summer School in Economics in Poland.

He has served on dozens of university committees, advised 32 graduate students for their masters theses and four doctoral student dissertations, received several professional and teaching awards and served numerous university committees and community organizations in volunteer capacities.

Gempesaw earned a bachelor's degree in economics from Ateneo de Davao University, Philippines, master's degree from West Virginia University, and doctorate in agricultural economics in 1985 from Pennsylvania State University

There are 14,770 undergraduate and 2,395 graduate students at Miami's Oxford campus, and another 6,000 students at its regional campuses in Hamilton and Middletown and learning center in West Chester. About 100-130 students per year study at Miami's Dolibois European Center in Luxembourg.
Miami has 1,514 faculty members. In the fiscal year 2009, Miami received over $22.6 million in academic grants and contracts from federal, state, and private sources. It offers bachelor's degrees in 100 areas of study, master's degrees in more than 50 areas and doctoral degrees in 14 fields.

Gempesaw replaces Miami's former provost Jeffrey Herbst, who left last summer to serve as president of Colgate University. John Skillings, special assistant to the president for enrollment management and former associate provost, is serving as interim provost.