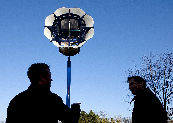 Miami's new wind turbine.
Miami's first wind turbine up and running
Nov 02, 2010
Miami University's first wind turbine, located at the Ecology Research Center (ERC), is expected to produce 6,000 kilowatt-hours (kwh) per year and pay an electric rate of 13 cents per kwh, amounting to $780 annually. It is sized to produce enough electricity for a typical household in a windy area.

"This is a modest but very important achievement for sustainability at Miami," said David Prytherch, associate professor of geography and the university's sustainability coordinator.

The turbine stands 37.3 feet tall and can produce power starting with winds as low as 5 mph. A shroud fits over the blades, making it easy for birds to see and avoid it, unlike the spinning blades found on open rotor turbines. The shroud is more than 12 feet in diameter.

More than 40 students, faculty and staff attended an event on Friday, Oct. 29, at the ERC to dedicate the new turbine and highlight ERC as a site for sustainability-related research.

The wind turbine project was a collaborative effort that began with an engineering class submitting a proposal to the Miami University Revolving Green Fund (MURGF), in cooperation with the ERC and the physical facilities department.

The MURGF's mission is to encourage the growth and development of environmentally sound technologies and practices at Miami and the Oxford community by financing innovative initiatives with sustainable returns.