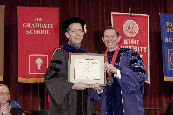 Joseph Johnson (left) receives the E. Philips Knox Award from President David Hodge.
Johnson receives Knox teaching award
Dec 22, 2010
Joseph Johnson, assistant professor of psychology, was awarded the E. Philips Knox Teaching Award at Miami University's fall commencement Dec. 17.

The $3,000 award was established by E. Philips Knox (Miami '68) to recognize creative, innovative and engaging teaching methods at the undergraduate level. Miami's Center for the Enhancement of Learning, Teaching, and University Assessment selected Johnson for the honor.

Johnson, whose research focuses on judgment and decision-making, has redesigned the psychology department's statistics and research methods sequence through an inverted classroom model and incorporated his own ideas on student learning styles. One of his goals was to help "improve and innovate student reception of quantitative content" and to highlight its potential applications and relevant contexts, along with incorporating more active learning through "engaging hands-on opportunities," Johnson explained.

In working with students, Johnson "brings to bear his considerable expertise in human cognition and his knowledge of applied research on how students learn...he has been a departmental leader in introduction of evidence-based teaching/learning innovations in the classroom," according to Carl Paternite, chair and professor of psychology. "For example, his implementation of 'inverted classroom' methods in his psychological statistics course is impressive both in its design and in its documented outcomes...he has also brought his expertise to several other major curriculum initiatives...including our Top 25 project."

His "engagement, innovation and effectiveness with students have been documented by a wide range of indicators, including uniformly exceptional course evaluations, consistently impressive peer reviews, numerous student nominations for teaching awards, and proximal and distal student learning outcome data," Paternite said.

Johnson joined Miami's faculty in 2005. He received his doctorate in cognitive psychology and cognitive science from Indiana University Bloomington in 2004 and was a postdoctoral fellow (National Institute of Mental Health Quantitative Methods Training Grant) at the University of Illinois in 2004-2005.