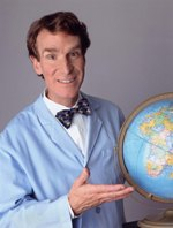 Bill Nye
Bill Nye presents "Let's Get Cool with Science!"
Jan 20, 2011
Bill Nye the Science Guy, scientist, engineer, comedian, author and inventor, will present "Consider the Following: Let's Get Cool with Science!" at 8 p.m. Monday, Jan. 31, in Hall Auditorium, part of the Miami University 2010-2011 Lecture Series.

Nye, whose mission is to help develop a scientifically literate society, discovered that he had a talent for tutoring while in high school. He earned a degree in mechanical engineering at Cornell University, studying astronomy under Carl Sagan. While working as an engineer for the Boeing Company he began to combine his love for science with his flair for comedy and developed dual careers as an engineer by day and a stand-up comic at night. Eventually, Bill Nye the Science Guy was born.

Nye won seven national Emmy Awards for writing, performing and producing the PBS/syndicated series "Disney presents Bill Nye the Science Guy." The show won 18 Emmys in five years.

In between creating the shows, he wrote five children's books about science, including his latest title, Bill Nye's Great Big Book of Tiny Germs.

Nye also was the host of three other television series: "The 100 Greatest Discoveries" on the Science Channel; the PBS series "The Eyes of Nye;" and, most recently, "Stuff Happens," on Planet Green, about environmentally responsible choices that consumers can make.

Nye served for several years as vice president of the Planetary Society - the world's largest space-interest group — and currently serves as its executive director.

The lecture is free, but tickets are required due to limited seating. Tickets will be available to the Miami community starting Wednesday, Jan. 26, at the box office in Shriver Center. Any remaining tickets will be available to the general public starting Friday, Jan. 28.

The final speaker in the 2010-2011 series is Soledad O'Brien, "Diversity: On TV, Behind the Scenes and In Our Lives," April 4.

For more information go to www.muohio.edu/lecture.