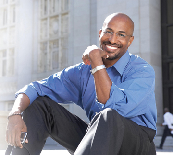 Van Jones
"Green Jobs" pioneer, activist Van Jones at Miami
Jan 20, 2011
Van Jones, a globally recognized environmental advocate, "green jobs" pioneer, civil rights activist and author, will speak on "Environmental Justice and the Green-Collar Economy" at 7:30 p.m. Thursday, Jan. 20, in Hall Auditorium at Miami University. His talk is part of the annual Robert E. Strippel Memorial Continuing Dialogue on Justice and Human Rights.

Jones is the best-selling author of The Green-Collar Economy: How One Solution Can Solve Our Two Biggest Problems, considered the definitive book on green jobs.

He was the main advocate for the Green Jobs Act, which President George W. Bush signed into law in 2007. He served as special adviser for Green Jobs, Enterprise and Innovation for the White House Council on Environmental Quality until September 2009.
He is the founder of three nonprofit organizations: Green for All, the national organization working to get green jobs to disadvantaged communities; the Ella Baker Center for Human Rights, which works to break cycles of urban violence and reinvest in urban centers; and Color of Change, which has become the nation's biggest advocacy organization that focuses on African American issues.

Among his many awards and honors, Jones was named by TIME magazine as one of the 100 most influential people in the world in 2009; he was named 2008's "Environmental Hero" by TIME; and was named one of the most influential/inspiring African Americans of 2008 by Essence.

He is currently a senior fellow at the Center for American Progress, and he holds a joint appointment at Princeton University as a distinguished visiting fellow in both the Center for African American Studies and the program in science, technology and environmental policy at the Woodrow Wilson School of Public and International Affairs.

Jones' talk is free and open to the public but tickets are required. Tickets are available at the box office in Shriver Center, www.tickets.muohio.edu.

The talk is sponsored by the Strippel Memorial Dialogue on Justice and Human Rights with support from the Center for American and World Cultures and many other campus organizations. For more information go to CAWC spring events.

Symposium "Economic Practice as Environmental Activism" Jan. 21

A symposium, also part of the Strippel Dialogue on Justice and Human Rights, will be held 9-11 a.m. Friday, Jan. 21, in 212 MacMillan Hall. "Economic Practice as Environmental Activism: New Directions in Activism," will include representatives from the Sierra Club, the Ohio Interfaith Power and Light, the National Farmers Union and the National Technical Association.

Please register for the symposium by Jan. 15. Contact Dorothy Falke at 529-8309 or falkeda@muohio.edu.