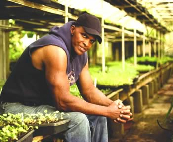 Will Allen
Urban gardens topic of 25th Racial Legacies & Learning
Jan 25, 2011
If it were up to Will Allen, the keynote speaker for the 25th Racial Legacies & Learning town meeting, low-income urban families would cultivate fresh fruit and vegetables in their front yards, back yards, side yards, empty lots - even on rooftops. He will speak at 7 p.m. Tuesday, Feb. 1, in the Wilks Conference Center on Miami University's Hamilton campus.

The program is titled "Growing Power: Cultivating Food, Partnerships and Community." Allen also will speak to the Middletown community at noon Wednesday, Feb. 2, in 142 Johnston Hall, Miami Middletown.

Allen is co-director of Growing Power, Inc., a Milwaukee-based not-for-profit organization inspiring communities to build sustainable food systems that are equitable and ecologically sound. Allen is an urban farming expert who is pioneering a local farming movement. Growing Power's vision is to create a just world, one food-secure community at a time.

Woody Fitton, president and CEO of the Great Miami Valley YMCA, said Allen's vision is consistent with goals of the Great Miami Valley YMCA's Activate America challenge now taking place across Butler County, stressing the importance of regular exercise and good nutrition to human health and vitality.

Allen will be joined on stage by a panel of local experts including urban gardener Alfred Hall of Hamilton's Lindenwald neighborhood; Daniel Remley of the OSU Extension Office; organic farmer Jim Rosselot of West Chester, and Bachelor of Integrative Studies student Jefferson Chandler, whose concentration is environmental studies with a minor in horticulture. Chandler also works in The Conservatory at Miami Hamilton.

According to Allen, most people don't realize that "cities originally produced the food." Rather than bringing people back to the land, Allen's methods of growing food and teaching urban cultivation are transforming the way low-income families can get safe, affordable meals.

"Obesity, diabetes, and inadequate nutrition are increasing at an alarming rate, especially for the poor and people of color," Allen said. "We need to create a more just food system and get the same food to all people."

The Y's Activate America program is addressing that very issue, Fitton said, adding that the Y wants to establish farmer's markets in Butler County's most urban neighborhoods.

The town meeting is sponsored by the City of Hamilton, the Hamilton JournalNews, Miami University's Center for American & World Cultures and Miami University Regionals.

Additional support is provided by Miami Hamilton's Student Government Association, campus activities committee and multicultural activities committee. The event is free and open to the public.