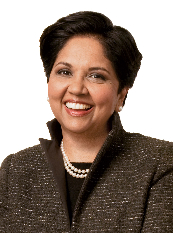 Indra Nooyi, chairman and chief executive officer of PepsiCo.
Indra Nooyi, PepsiCo CEO, to speak at Miami's commencement
Feb 15, 2011
Indra Nooyi, chairman and chief executive officer of PepsiCo, will speak to graduates and their families at Miami University's spring commencement Saturday, May 7, at Yager Stadium.

Nooyi was named president and CEO of PepsiCo in 2006 and assumed the role of chairman in 2007. With nearly $60 billion in annualized revenue, PepsiCo employs 285,000 people worldwide.

Nooyi is the chief architect of PepsiCo's multi-year sustainable growth strategy, Performance with Purpose. Performance with Purpose encompasses PepsiCo's commitment to build a portfolio of wholesome and enjoyable foods and beverages, find innovative ways to reduce the use of land, water, energy and packaging and provide a "great workplace" for its employees.

Nooyi's leadership has been recognized by Fortune magazine, ranking first among its "50 Most Powerful Women in Business" list since 2006, and by Time, as one of the magazine's "100 Most Influential People in the World" in 2007 and 2008.

"We are honored to have one of the world's top leaders speaking to our graduates. Ms. Nooyi is known for the global focus and diversity inclusion she brings to PepsiCo and other groups in which she is involved," said Miami University President David Hodge. "This focus is exactly what we prepare our students for so that they are ready and able to work in a truly global, diverse world upon graduation."

In addition to being a member of the PepsiCo Board of Directors, Nooyi serves as a member of the boards of the U.S.-China Business Council and the U.S.-India Business Council; The Consumer Goods Forum; Catalyst; Lincoln Center for the Performing Arts; The Peterson Institute for International Economics; Grocery Manufacturers Association; the Board of Trustees for Yale University; and the U.S. Soccer Federation, among others. She was appointed to the U.S.-India CEO Forum by the Obama Administration.

She received a bachelor's degree from Madras Christian College, an MBA from the Indian Institute of Management in Calcutta and a Master's of Public and Private Management from Yale University.

Commencement is at 1:30 p.m. Saturday, May 7. No tickets are required.