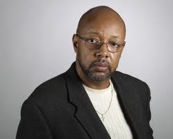 Leonard Pitts Jr.
Columnist Leonard Pitts Jr. to speak Feb. 7 at Miami
Feb 02, 2011
Pulitzer Prize-winning columnist Leonard Pitts Jr. will present "Owning What You Know" at 4 p.m. Monday, Feb. 7, at Hall Auditorium at Miami University.

He will speak about the current state of public discourse in the United States and how an inability to agree on what is actually factual affects society.

Pitts began writing professionally in 1976 at age 18 for SOUL, a national black entertainment tabloid. Two years later, he stepped up as the editor. Since then, Pitts has received multiple awards for his work, including a 2004 Pulitzer Prize for commentary.
A one-time writer for Casey Kasem's "American Top 40," Pitts joined The Miami Herald in 1991 as its pop music critic. In 1994, he began writing a nationally syndicated twice-weekly column on race, current affairs, pop culture and other issues. A 2001 column – written as an angry letter to terrorists after the Sept. 11 attacks – cemented Pitts' reputation as a commentator of national importance after it was disseminated and discussed around the globe.

In addition to his column, Pitts is the author of a nonfiction book, Becoming Dad: Black Men and the Journey to Fatherhood; a novel, Before I Forget; a collection of columns, Forward From This Moment; and a series of columns called What Works?, about programs that improve the lives of black children. He has also taught journalism at three U.S. universities.

His visit to Miami is sponsored by the journalism program, the Miami chapter of the Society of Professional Journalists, the Miami University Special Events Fund, the Center for American and World Cultures, the department of political science, the Humanities Center and the Associated Student Government. His talk is free and open to the public.

For more information, contact event coordinator Patricia Gallagher Newberry of Miami's journalism program faculty, at newberpg@muohio.edu. or 529-5893.

To read recent Pitts' columns, visit www.miamiherald.com/leonardpitts.