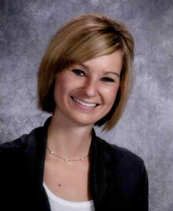 Mandie Bryant
Miami student is Ohio's 2010 Outstanding Student Teacher
Mar 15, 2011
Mandie Bryant, a Miami University senior from Findlay, will be recognized by the Ohio Association of Teacher Educators as the state's 2010 Outstanding Student Teacher at an award ceremony Thursday, March 17.

It is the second time in three years that a Miami student teacher has won the statewide award.

Bryant, who is majoring in early childhood education, student taught fall semester at the Fairfield Kindergarten Center in the classroom of Sue Maiorana.

"She is a fabulous teacher, and I certainly had amazing footsteps to follow and guide me throughout my student teaching experience," Bryant said.

Ellen Hill, who supervises the placement of about 400 student teachers annually for Miami, said Bryant "has a wonderful rapport with students, and because she shows an interest in their lives, her students respect her and enjoy being in her classroom."

"This is an exceptional honor not just for Mandie, but for Miami," said Carine Feyten, dean of the School of Education, Health and Society.