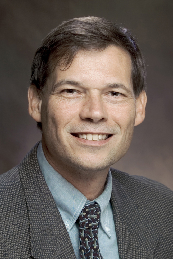 A. John Bailer
A. John Bailer to receive Benjamin Harrison Medallion
Apr 21, 2011
A. John Bailer, Distinguished Professor and chair of statistics, will receive Miami University's prestigious Benjamin Harrison Medallion during the May 7 commencement ceremony. The announcement was made during faculty assembly April 13.

Bailer, an internationally known biostatistician,"for 23 years has served Miami as well as the statistical, natural and environmental science and social science communities at large with distinction," according to his nomination letter. He is an affiliate member of the departments of zoology and of sociology and gerontology, an affiliate of the Institute for the Environment and Sustainability and a Scripps Research Fellow in the Scripps Gerontology Center.

He has a "unique intellectual agility to cross disciplinary boundaries and sets an ambitious agenda that benefits all of those who work with him," states one reviewer. His research spans many fields, from toxicology and ecology to gerontology, genetics and engineering. His work has influenced policy decisions and directions at the national level, particularly in the area of risk assessment.

His research in toxicology has led to changes in the American and European Union approach to environmental risk assessment and his collaborative work in gerontology was used to develop a new sampling model for assessing resident satisfaction with nursing homes.

Bailer is noted for his interdisciplinary — and prolific – research record: 122 research articles authored or co-authored (46 co-authored with students or former students); 35 book chapters and reports; and five co-authored or co-edited books. He has researched collaboratively and lectured "virtually around the globe."

He has held leadership roles in a number of national and international professional organizations, and was recently elected as a member of the board of directors of the American Statistical Association. He has also been a member of a number of National Research Council (NRC) committees on risk assessment.

Exemplifying the teacher scholar model, Bailer, a proponent for quantitative literacy efforts at Miami, has "the true gift of being able to make statistics understandable, exciting and applicable to students," said another reviewer.

Bailer has been recognized for excellence in teaching, research and service at Miami with many awards: he received the 2009 Distinguished Teaching Award for Excellence in Graduate Instruction and Mentoring; and he was named a University Distinguished Professor in 2005; Distinguished Scholar of the Graduate Faculty in 2005; Miami University Distinguished Scholar in 2001; College of Arts and Science Distinguished Educator in 1999; and Miami University Sigma Xi Researcher of the Year in 1999.

The Harrison Medallion is presented to members of Miami's faculty or staff who have made outstanding national contributions to education. It is named for the 1852 Miami graduate who was president of the United States from 1889 to 1893.