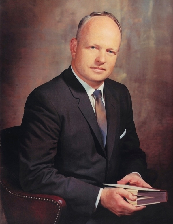 Phillip R. Shriver
Miamians mourn the passing of Phillip R. Shriver, president emeritus of Miami University
Apr 25, 2011
Decades of students, staff and faculty are saddened to learn of the death of Phillip R. Shriver, president of Miami University from 1965-81 and professor of history from 1947-98, Saturday, April 23, in Oxford, at the age of 88.

The much-beloved Shriver was known for his deep fondness for Miami, respect for students, incomparable knowledge of history and, over many decades, remembering the names of everyone he met.

Shriver taught at least one class every year except one during his 52 years in the classroom—including the years during which he was Miami's president and the years when the Vietnam War incited student unrest at dozens of universities, including Miami. His first years in academia were at Kent State University, where he was a professor of American and Ohio history from 1947-65, becoming dean of the College of Arts and Sciences in 1963. In Oxford, his course on the history of Miami was notoriously standing room only, known as much for the depth of the lecture material as for the appeal of the lecturer himself.

"It has been said that more than records, buildings and budgets, the real continuity of a university is the generations of young people who come to us, and older generations who meet with them, deal with them and try to help them into adulthood. This is the essence of teaching," said Shriver in 1984, explaining why he continued to teach while serving as president of Miami.

In 1998, his last year in the classroom, he published Miami University: A Personal History. He continued to give guest lectures for several years, including the 27th annual Casper Lecture at Miami Middletown in 2000.

Shriver, born in Cleveland Aug. 16, 1922, earned a bachelor's degree at Yale University in 1943, where he was a member of the glee club and a Phi Beta Kappa graduate with honors in history. He served in the Navy from 1943-46, earned a master's in history from Harvard University in 1946 and earned a doctorate in American history from Columbia University in 1954. He received honorary degrees from 10 other American colleges and universities.

Shriver and the late Chief Floyd Leonard of the Miami Tribe worked together to build a mutually enriching relationship between the tribe and the university. Over the years, they jointly presented history programs about both Miamis. Today, the relationship includes the Myaamia Project, a language reclamation project; a scholarship program for tribal students; shared research resources and many cultural programs.

During his 16-year tenure as the university's 17th president, Miami opened new campuses in Middletown, Hamilton and Luxembourg, Miami's first 10 doctoral programs were introduced, 30 buildings were constructed on three campuses, the Western College for Women was acquired, total enrollment nearly doubled and Miami gained recognition as one of the nation's 20 most selective public universities, as well as one of the best values in higher education.

Yet, he considered his 52 years in the classroom and the relationships he had with faculty and staff and thousands of students who knew him as "Uncle Phil" to be his most important professional accomplishments, and his greatest joy.

"It cannot be overstated how much Phil Shriver did for Miami University during critical years of growth and of challenges. His leadership and his humanity have left an indelible mark on the university and on our alumni," said David Hodge, Miami's current president.

"He did a marvelous job during that period," said Lloyd Goggin, Shriver's vice president for finance and business affairs. "He was a man who was born to listen and did listen. There was no finer person than Dr. Shriver, and he will be sorely missed."

Among extended service to Miami, Shriver chaired the Athletic Nickname Selection Committee in 1996-97 that reviewed 3,000 submissions (700 names) for a new nickname from alumni, faculty, staff, students and fans of Miami.

He served on the Ohio Humanities Council from 1983-89 and as a member of the Organization of American Historians, American Studies Association and others. He has written or co-written seven books and more than 200 articles relating to history and archaeology. A former chair and trustee of the Ohio Historical Society, Shriver was instrumental as chairman of Ohio's Bicentennial Commission for the Northwest Ordinance and the U.S. Constitution. Other service includes  chairman of the Council of Presidents of the National Association of State Universities and Land Grant Colleges and chairman of the board of the Federal Reserve Bank of Cincinnati. Locally, he was an active member of the Oxford Rotary Club and the Oxford Presbyterian Church and had a lifelong association with Delta Upsilon fraternity.

Shriver received the 1991 Distinguished Service Award from the Ohio Academy of History, the Ohio Humanities Council's 2001 Bjornson Award for Distinguished Service in the Humanities and the 2004 Cincinnati Society of Association Executives Statesman Award, among others. A Navy veteran of World War II, he was inducted into the 2009 class of the Ohio Veterans Hall of Fame.

An award at Miami named after him recognizes a past Effective Educator recipient who continues to garner nominations as an Effective Educator. The university center, Shriver Center, was renamed in his honor when he retired as university president.

He is survived by Martha, his wife of 67 years, of Oxford; and children Carolyn (Bill) Shaul, Susan, Melinda (David) Williams, Darcy, and Raymond Scott II (Vicki); eight grandchildren and four great-grandchildren.

In lieu of flowers, the family has asked that Phillip Shriver be remembered with a donation to any one of the following, all of which were special to him: Miami University Phillip R. Shriver Scholarship; the Miami Glee Club Director's Fund, either at Miami University Foundation, Panuska Development Center, 725 E. Chestnut St. Oxford, OH 45056; the Lakeside Association, Lakeside Chautauqua Foundation, 236 Walnut Avenue, Lakeside, OH 43440; the Oxford Presbyterian Church, 101 N. Main St., Oxford, 45056; or the charity of your choice.

A memorial service will be held at a later date.