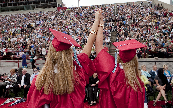 Miami University celebrates 2011 graduates.
Miami awards 3,967 degrees during spring commencement
May 13, 2011
Miami University awarded 3,967 degrees during its 172nd annual spring commencement ceremony Saturday, May 7, in Yager Stadium.
President David Hodge presided.
Indra Nooyi, chairman and chief executive officer of PepsiCo, addressed the graduates of the class of 2011. She received an honorary doctorate of law. Her address is available online.

View photos of commencement online.

Degrees awarded included 24 certificates, 244 associates, 3,296 bachelor's, 385 master's and 18 doctorates of philosophy. 
These include degrees awarded to students (except doctoral students) who fulfill graduation requirements in August. This year a separate ceremony will not be held in August for master's and doctoral degree recipients. 



During the ceremony, doctoral candidates were individually recognized and hooded; master's degree candidates were individually recognized; bachelor's and associate's degree candidates were recognized by division; and ROTC candidates were commissioned.