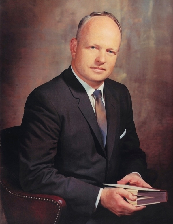 Dr. Phillip R. Shriver
Memorial service for Phillip Shriver, Miami president emeritus
May 19, 2011
A memorial service is scheduled at 1:30 p.m. Saturday, May 28, in Millett Hall to celebrate the life of Phillip R. Shriver, president emeritus of Miami University, who died April 23.

Shriver, who was president of Miami University from 1965-81 and a professor of history from 1947-98, taught at least one class every year except one during his 52 years in the classroom, including his years as president. His first years in the classroom were at Kent State University.

The entire community is invited to the service. "Anyone who was touched by Phil Shriver's life is welcome to attend," said Darcy Shriver, former Red & White Club director and daughter of Phillip Shriver.

Anyone is also welcome to offer memories of Phillip Shriver for possible use in the summer issue of the Miamian alumni magazine, and to share with the family. Please send memories to the Miamian at miamian@muohio.edu.

Some details of Shriver's service to Miami are here.