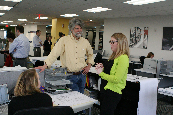 Tom Dutton, professor of architecture and interior design, talks with recent graduates/CCE interns Maddi Underhill and Jen Dickerson (sitting) in the office space of CR architecture + design.
Miami's Center for Community Engagement in Over-the-Rhine receives national recognition
Jun 10, 2011
Miami University's Center for Community Engagement (CCE), 1300 Vine St. in Cincinnati's Over-the-Rhine neighborhood, is now recognized as a National Council of Architectural Registration Boards (NCARB) Community-Based Design Center/Collaborative. It is one of the first centers to receive the distinction since NCARB created the category in fall 2010.

Students and recent graduates volunteering at the center can earn Intern Development Program (IDP) credit for design work with non-profits in Over-the-Rhine. In addition to a professional degree and successful completion of the architecture registration exam (ARE), IDP credit is essential for licensure as an architect in most states, and is regarded as a necessary bridge between education and professional practice. John Blake (Miami '92, M Arch '00) coordinator of community projects and design/build instructor for the Miami CCE is designated as IDP supervisor for the center. Thomas A. Dutton, professor of architecture and interior design, directs the program. He has been active in the Over-the-Rhine since 1981. The Center for Community Engagement became an official university center in 2002.

Due to the recent economic climate and lack of traditional internship opportunities for architecture students and recent grads, many have been honing their skills by providing design services for non-profit organizations, without compensation. Miami's CCE has been providing design services for community-based non-profits in Over-the-Rhine since 1996. A residency component for students was added in 2006.

The CCE can now offer structured opportunities for interns and post-graduates to advance individual design careers while benefiting grass-roots organizations that cannot typically afford professional design services.

A significant amount of support for the program comes from CR architecture + design at 6th and Vine downtown, which, through the CCE's Atelier program is hosting students in a 23rd floor open office and offering resources such as space, consulting and printing.

Normally about 14 students participate in the CCE in fall semester, and about half that in the spring. The semester-long fall program requires about 30 hours per week in community endeavors, including 15 hours helping the staff of neighborhood organizations.

Examples of student work are available online.