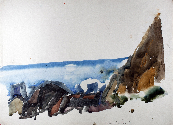 One of 59 pieces of post-war contemporary art donated by Larry Huston of Covington, Ky., to Miami University's Art Museum. Artwork by artist William McGee, Mohegan Shore, Block Island, 1966; watercolor on paper.
Huston gift-in-kind bolsters art museum's collection
Jun 10, 2011
Larry Huston of Covington, Ky., a friend of Miami University and the Miami University Art Museum, has agreed to a significant gift-in-kind to the art museum. His contribution, valued at $231,500, includes 59 pieces of artwork.

"I am so pleased to help Miami build its collection of post-war contemporary art," said Huston. "It is an honor to be associated with Miami's School of Fine Arts, which I consider an asset to the region."

Huston, the managing director of 4iNNO, the world leader in Open Innovation Consulting and Advisory Services, is credited with creating a new model of innovation that is being adopted by hundreds of companies world-wide. He developed the concept, known as Open Innovation, while at Procter & Gamble, and it has been presented in leading publications, top-selling business books and via television appearances. He is a Wharton Fellow and teaches innovation at Wharton's Mack Center for Technological Innovation at the University of Pennsylvania.

"This important gift strengthens our holdings of mid-20th century art, especially the historically significant group of abstract and mixed media collages and color field paintings by William McGee, a close associate of Franz Kline at Black Mountain College, N.C., in the 1950s," said Robert Wicks, director of Miami's art museum.

Completed in 1978, the Miami art museum houses five galleries of changing exhibitions and a growing permanent collection of approximately 16,000 artworks. It pursues an active role in the overall cultural life of southwest Ohio, recognizing dual goals of public outreach and university cooperation in keeping with the broad scope of a university that emphasizes liberal education.

The gift, which counts toward Miami University's campaign For Love and Honor, provides access to an impressive art collection not only to visitors in the region but also to students studying art and related fields at Miami University. The campaign For Love and Honor is a $500 million initiative supporting scholarships, faculty, student learning opportunities, academic programs, and facilities and grounds.