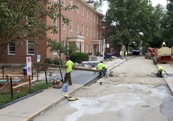 Elliott Hall on Miami University's campus recently underwent a makeover. Photo by Scott Allison
Oldest halls get newest heating/cooling via geothermal wells
Oct 06, 2011
Elliott and Stoddard halls at Miami University, built in 1829 and 1836, respectively, are the oldest residence halls on campus and now have the most contemporary and sustainable heating and cooling systems, via 17 600-feet-deep geothermal wells.
This summer, for a Miami Makeover, part of Miami's long-range housing and dining master plan, upgrades in security and utility efficiencies were made in several of Miami's 41 residence halls and apartment buildings.
The most significant work happened in Elliott and Stoddard, which house students in the Scholar Leader program. In their first decades, students heated and cooked in their rooms with firewood they'd collected. Now, they can enter their rooms by tapping new electronic ID cards to the key plate, set room-specific temperatures with recovered heat* and use Wi-Fi inside and out (this was accomplished two years ago).
This summer's upgrades included:
Installation of numerous utility-efficient systems

Modernization of rooms, including added electric outlets and energy-efficient windows

New plumbing and bathroom fixtures (yes, they have been renovated several times since the 1800s.)
Specific processes enabling efficiency include:
1. Installation of geothermal heating/cooling, a clean, earth-friendly option
2. *Restroom exhaust heat recovery - (the warm air from the bathroom exhaust is captured and used when heating)
3. Low-flow plumbing fixtures
4. Free cooling in heating mode, free heating in cooling mode on fan coil systems - (if students want to heat their rooms when most others are cooling then that heating is 'free' because the system is rejecting the heat from cooling mode. The opposite also works.)
5. Insulation in exterior walls (there was none before.)
6. Insulation in the attic (there was none before)
7. High-efficiency natural gas water heaters
8. Double-pane energy efficient windows replaced single pane windows
9. The wood floors in Elliott and both halls' living rooms were refinished, instead of being replaced
Miami's long-range housing and dining master plan was developed through consultation with outside agencies, extensive planning and discussion among physical facilities, housing dining, recreation and business services (HDRBS) and academic, administrative and residential life committees over the last two years.
Surveys were emailed to a random sample of students and parents. These communications followed an internal study begun in 2006 focusing on improving the residential experience for students and forecasting the university's long-range housing and dining needs in regard to meeting national standards and continuing to attract students.