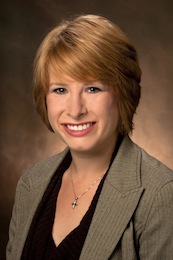 Zoe Hesp
Miami's Astronaut Scholar invited speaker at Kennedy Space Center event
Nov 16, 2011
Miami University senior Zoe Hesp, recipient of a 2011 Astronaut Scholarship, received a second honor from the Astronaut Scholarship Foundation (ASF) this year: She spoke at a dinner in honor of the 45th anniversary of the Gemini XII space mission. She was the sole Astronaut Scholar invited to speak at the annual ASF Astronaut Autograph and Memorabilia show at the Kennedy Space Center Nov. 4-6.

"I talked about how the scholarship led me to develop a new sense of purpose in science beyond simply a career and that science research is fundamentally a selfless endeavor to contribute to societal development as a whole rather than simply a personal cause," said Hesp.

"During the course of the weekend, I was able to interact with the astronauts and donors on a personal level that led me to realize how truly gracious and selfless these individuals are in their dedication to science promotion," Hesp said.

Since ASF was founded in 1984, nearly 90 astronauts have lent their support to the program that now awards 26 scholarships annually, each worth $10,000.

"Not only was I humbled by their generosity, but I was inspired to make sure that whatever I achieve in the future is foremost for others' benefit," Hesp said.

During the weekend, she volunteered as a "handler" for astronauts Ed Gibson and Richard Gordon during the autograph show and attended events for donors.

Hesp, a zoology and French double major and neuroscience minor of Dayton, has conducted undergraduate research for the past three years with faculty mentor Lori Isaacson, professor of zoology, studying the regeneration of peripheral nerve cells following injury.

She recently received a travel award from the Faculty for Undergraduate Neuroscience to attend the national meetings for the Society for Neuroscience Nov. 12-16 in Washington, D.C. She will present a poster on "Immunofluorescence restaining of previously processed experimental tissues reveals preservation of antigenicity." She was one of 19 undergraduates nationwide to receive the $750 award.

Hesp was elected secretary of the national chapter of the neuroscience honorary society Nu Rho Psi for a three-year term beginning in 2011. She also received a 2011 Goldwater Scholar Honorable Mention.