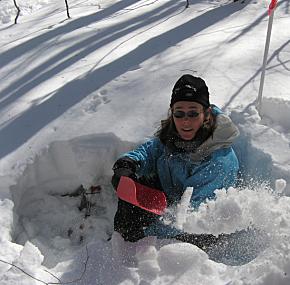 Melany Fisk, clearing snow in preparation to sample soil (photo courtesy Melany Fisk)
Study shows current climate change models don't account for real-life surprises
Dec 19, 2012
Written by Susan Meikle with contributions from Melany Fisk and the American Institute of Biological Sciences
Much biological research on climate change focuses on the impacts of warming and changes in precipitation over wide areas. But current climate change models don't account for real-life surprises that take place in forests, show Miami University ecologist Melany Fisk and colleagues. In the northern hardwood forest, researchers are now increasingly recognizing that at the local scale they must understand the effects of climate change through the intertwined patterns of soils, vegetation and water flowpaths - not forgetting the uses humans have made of the landscape.

Fisk is part of a team of 20 researchers who describe how aboveground and belowground responses to springtime warming are becoming separated in time in a forest in New England. This and other indirect effects of climate change could alter the dominant trees and other plants in the region as well as the wildlife present, with likely consequences for local industry and tourism — such as the maple syrup industry, timber resources and recreational skiing.

The observations could be a bellwether for changes in forests elsewhere. Their study, "Long-Term Integrated Studies Show Complex and Surprising Effects of Climate Change in the Northern Hardwood Forest," is published in the December 2012 issue of BioScience.

The Changing Face of Winter

The researchers, led by Peter Groffman, analyzed more than 50 years of long-term data on environmental conditions at the Hubbard Brook Experimental Forest located in the White Mountains of New Hampshire. For more than 50 years, the changing face of winter has been studied by scientists at the 7,800-acre forest.

"Climate change plays out on a stage that is influenced by land-use patterns and ecosystem dynamics," said Groffman, microbial ecologist at the Cary Institute of Ecosystem Studies. "We found that global climate models omit factors critical to understanding forest response, such as hydrology, soil conditions, and plant-animal interactions."

"In the northeastern U.S., climate is changing more rapidly in winter than in summer," said Fisk, associate professor of zoology at Miami. "The impacts of winter climate change on ecosystems are greatly complicated by effects on snow depth and soil freezing."
In the Hubbard Brook Experimental Forest (HBEF) warming means spring has advanced and fall has retreated over the 50-year study period. Together with increasing snow and rain, this has led to an increase in streamflow in winter and summer—but to a decline in the winter snowpack.

According to the ongoing Hubbard Brook Ecosystem Study, average winter temperatures have warned by 2.5 degrees Fahrenheit since 1955. Maximum snowpack levels have declined by about 10 inches.

Changing Landscape: Shifts in Wildlife Populations; Timber, Maple Sugar and Recreation Industries Impacted

In the northern hardwood forest in winter, soils are protected from freezing air temperatures by a thick insulating snowpack. This over-winter climate buffering of the soil environment promotes nutrient recycling and retention activities by soil organisms, Fisk explained.

"The depth of this snowpack has declined over the past 50 years as the winter season has shortened and temperatures have warmed. Timing is critical here. Soils are more likely to freeze when snowpack accumulates later in the season, and this disrupts interactions between plants and soil organisms causing losses of plant nutrients from the ecosystem during the summer."

• The researchers predict the declining snowpack should favor deer at the expense of moose—which seems to be happening. Lower snow depths can help deer populations in their hunt for food, but they can hurt moose by causing an explosion in the population of ticks, explained study co-author Pamela Templer.

• The earlier thaw means soils have been warming earlier in the springtime. Significantly, the interval between snowmelt and full leaf growth has increased — by eight days over 50 years at the HBEF, the study found.

• Soil nutrients can be more easily washed out during this transition period, and soil freezing can also occur, say the researchers. This can in turn threaten some tree species, including yellow birch and sugar maple—the main source of maple syrup.

• Soil invertebrates are also killed by soil freezing, so the species of birds that feed on them will likely change.

Moving Beyond Current Climate Change Models: Long-Term Records and Focus on Local Contexts in the Landscape Required

Groffman, Fisk and their colleagues stress that research into the likely effects of climate change should examine a full range of landscapes. Research should also take advantage of the range of temperatures at different elevations to explore the effects of expected warming.
"Managing the forests of the future will require moving beyond climate models based on temperature and precipitation, and embracing coordinated long-term studies that account for real-world complexities," Groffman said. "These studies can be scaled up, to give a more accurate big picture of climate change challenges—while also providing more realistic approaches for tackling problems at the regional scale."

"Understanding or predicting changes in ecosystems that are associated with climate can be confounded by the gradual and small rates of climate change relative to the backdrop of highly variable weather, and also heterogeneity of geology, soils, and vegetation in the landscape," Fisk said. "To learn about some of the unanticipated and complex consequences of changing climates, we need long-term records and also a focus on very local contexts in the landscape."

Fisk added, "We have taken advantage of our long-term records at the Hubbard Brook Experimental Forest to identify some of those complexities that are less apparent at broader spatial and temporal scales, but that are essential for interpreting ecosystem change."

Related Stories:

• Watch the video: The Hubbard Brook long-term research on climate change was featured on WBZ CBS Boston Local News recently.

• About Hubbard Brook: Hubbard Brook is one of 26 National Science Foundation Long-Term Ecological Research (LTER) sites around the world in ecosystems from deserts to coral reefs to coastal estuaries.

The Hubbard Brook Experimental Forest (HBEF) has been studied for more than 50 years. On-site research has produced some of the most extensive and longest continuous data bases on the hydrology, biology, geology and chemistry of a forest and its associated aquatic ecosystems.

• Melany Fisk's Research: Fisk's research focuses on forest ecosystems and environmental change, with an emphasis on plant/soil interactions.

Read more about her research on climate change and predicting changes in ecosystems.