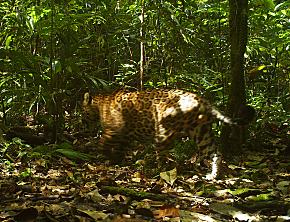 A jaguar passes one of the cameras in Guyana's Kanuku Mountains Protected Area. Photos courtesy of Matt Hallett
Counting jaguars to establish baseline for protected area in Guyana
Mar 01, 2013
No one knows how many jaguars are in Guyana's Kanuku Mountains Protected Area.

Matt Hallett, a graduate student in Miami University's Institute for the Environment and Sustainability (IES), hopes to help the South American country determine that count, while also documenting the diversity and abundance of other species. So far that includes rare and elusive creatures like the giant armadillo, Brazilian tapir, giant anteater and bush dog. Many of the species documented in this remote mountain range are rarely seen and some have never been filmed in the wild, but they have been showing up as images on his remotely triggered cameras.

In October 2011 the Kanuku Mountains were added to Guyana's list of protected areas. This area has been utilized by indigenous people for generations, and the 16 communities that exist adjacent to the newly formed protected area remain responsible for its management today.
"There are pristine forests, savannahs, mountains and beautiful creeks that are rich with species, all bordering a bountiful river, and they all remain today as a credit to the stewardship of the people and communities that live around the protected area," said Hallett.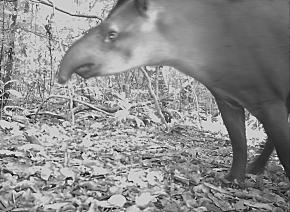 A Brazilian tapir triggers one of the cameras in Guyana's Kanuku Mountains Protected Area. 
His study will be the first of its kind in the Kanuku Mountains.
"It's known that jaguars and other rare species are there, but nobody knows in what numbers they exist," added Hallett.
In addition to jaguars, the largest cat in the Neotropics (the region including southern Mexico, Central and South America and the West Indies), the Kanuku Mountains also provide habitat for Guyana's other giants, including the giant river otter, black caiman, harpy eagle, anaconda, arapaima and goliath bird-eating spider.
Hallett's goal is two-fold: He wants to estimate the population of jaguars throughout Guyana's largest protected area, while also documenting the diversity it supports so that the country can monitor creature populations moving forward. He is also helping to "create local scientists by training and employing members of local communities." His hope is to "someday put myself out of a job because that will mean my local counterparts have become researchers in their own right."
"At the end of the day, I want to be more than just another guy doing a research project," said Hallett.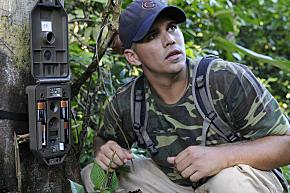 Matt Hallett sets up one of the remotely triggered cameras for his creature population study.
Hallett hopes to support villages around the protected area in conducting their own research by providing the training, experience and tools necessary to investigate their own questions. Nearby residents have already shown much interest in the practical applications of camera traps, as they hunt and fish in the area for subsistence and there is the persistent conflict with jaguars who prey upon livestock and other game species who feed on agricultural crops. With added knowledge about the movement of jaguars, puma, tapir, peccaries, deer and other animals, residents may be able to reduce conflict and create conservation efforts to benefit themselves and the mountain forests.

Hallett, who earned a master's degree in zoology from Miami/Project Dragonfly's Global Field Program before joining IES, is also an instructor in an Earth Expeditions course in Guyana for Miami's Project Dragonfly. Hallett currently employs 27 motion-sensored cameras in the Kanukus, which he obtained through support from IES, Project Dragonfly, the Graduate School at Miami University, Rupununi Learners Foundation, the Fred S. Novy Foundation and the Phoenix Zoo. He's been working in Guyana for almost three years in different capacities, but this IES thesis project is his first formal research effort and is facilitated in a partnership with Panthera and Conservation International – Guyana.

For more information on Hallett's work, go to www.rupununilearners.org.

In the video below, an adult female jaguar passes a camera set by villagers near a sandbank by a protected area of Guyana.