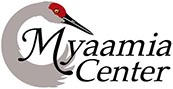 Miami's Myaamia Project becomes Myaamia Center
Mar 07, 2013
Miami University and the Miami Tribe of Oklahoma are expanding the scope of the Myaamia Project by launching a new Myaamia Center located on the Oxford campus. The center will carry forward the work of revitalizing Myaamia language and culture that began through the project more than a decade ago.
Recent Myaamia initiatives
• Students working with Doug Troy, professor of computer science and software engineering at Miami University, have developed mobile apps that help teach the Myaamia language.

• With music and tribal student input, two new verses were added to Miami University's alma mater in the Myaamia language.

• The soon-to-be opened Armstrong Student Center includes a meeting room named the Wiikiaami Room, the Myaamia word for "home" or "lodge," and the room's display cases will hold rotating educational materials about the Tribe and the relationship with Miami University.

• The Myaamia Center is a participant in the Endangered Languages Project, designed for researchers, students and indigenous community members to find and share the most up-to-date and comprehensive information about endangered languages from around the world.

• Miami graduate Brad Kasberg, recipient of the $30,000 Joanna Jackson Goldman Memorial Prize in 2012, is working with the Miami Tribe to develop a sustainable land use plan that will address the cultural, ecological and economical needs of the tribe.
The Myaamia Center is a tribally directed research entity with two main purposes. The first is to conduct in-depth research to assist tribal educational initiatives aimed at the preservation of language and culture. This research creates a wide range of educational models and materials for community language and cultural programs.

The second purpose is to expose undergraduate and graduate students at Miami University to tribal efforts in revitalizing their language and culture. Students gain experience through a wide range of activities including visits to tribal headquarters in Oklahoma, direct involvement in research initiatives, class visitations by center staff and access to Miami Tribe language and cultural resources.

According to Miami Tribe Chief Thomas Gamble, "The Miami Tribe of Oklahoma and Miami University have a unique relationship initiated forty years ago as a result of common geographic, historical, cultural and educational interests. Over time, this relationship developed a strong bond of mutual respect, trust and support. The Tribe is honored to have such a long-term commitment with the university which is exemplified in this recent transition of the Myaamia Project into the Myaamia Center."

The Miami Tribe, which inhabited a portion of the lower Great Lakes region including Southwest Ohio until the 1800s, and Miami University are linked through history and a growing mutually enriching relationship.

This unique collaboration is captured in the Myaamia term used to express this relationship 'neepwaantiinki,' "learning from each other."

Over the years this partnership grew through several initiatives. Scholarship funds are available for qualified tribal students. This support has been influential in recruiting more than 80 Myaamia students to the university since 1991.

"As indigenous communities across the country and beyond continue the struggle to preserve the unique identities that are expressed through their languages and cultures, the Miami Tribe of Oklahoma and Miami University have found ways to begin reversing this trend," said Daryl Baldwin, the director of the center. "Through unique partnering and resource sharing, the effort is changing the course of how tribal members are experiencing their heritage language in the modern world. There is a willingness by both entities to reach out to a new generation of youth."

"Bound by our common roots, we seek to learn from and contribute to each other. We are very proud of our deep connections to each other," said Miami President David Hodge.

The Myaamia Center's work is divided among four offices that will be conducting an array of research projects and developing educational materials. The offices include technology and publications, education and outreach, language research and cultural ecology.

The Myaamia Center provides a means for staff to reach beyond the boundaries of the university to collaborate with other centers and institutes who work with native communities in the fields of education and language and cultural revitalization.

"Participating in a larger network will allow a greater opportunity for resource sharing and further development of center initiatives," said Baldwin.