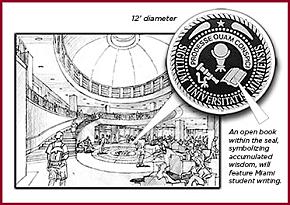 An open book within the seal, symbolizing accumulated wisdom, will feature Miami student writing.
Miami launches Great Seal Writing Contest
Mar 01, 2013
In preparation for the opening of the Armstrong Student Center in 2014, Miami University launches the Great Seal Book Writing Contest: President David Hodge invites students to "write" the book that will be one of three key elements featured in the center of the Bicentennial Rotunda.

The rotunda will house a replica of the Miami great seal, measuring 12 feet across and set 3 feet below the floor. The replica includes a globe, symbolizing the present moment shared by all peoples; a telescope, pointing to the future yet to be discovered; and the book, representing the accumulated wisdom of the centuries.

The book will hold a living collection of student writing, captured in contemporary time, but speaking both to Miami's heritage and imagining its legacy, according to contest organizers.

To contribute to this book, students are to respond to the following question:

As they pass the great seal in the Bicentennial Rotunda of the Armstrong Student Center, future generations will look for wisdom and wit in your words. In your Miami experience, what wisdom have you gained from the university's heritage that you would like to pass on? In other words, what values, beliefs and experiences connect "Old Miami" and "New Miami?"

Length is 1809 words or less

The grand prize includes a $2,000 award and the essay to be printed on the opening page of the book. A $1,000 award will also be presented to the best essay from each of the classes. Other submissions will make up the remaining pages of the book. The contest is open to all Miami undergraduate students across all campuses.

Submission deadline is April 2. More information can be found online at Miami's Howe Writing Center.
The Howe Writing Center is holding a workshop on two dates in March to help students craft the best possible entry for the contest. Participation in the workshop is not required to enter but is encouraged.

• 6-7 p.m. Tuesday, March 19, 320 King Library
• 6-7 p.m. Wednesday, March 27, 320 King Library

Topics:
• Knowing your audience for the contest
• Glimpses of Miami history, "Old Miami, New Miami"
• Idea generation for your contest entry
• Draft feedback