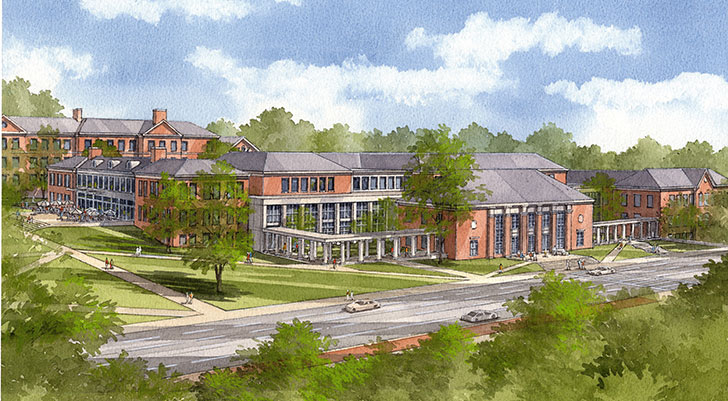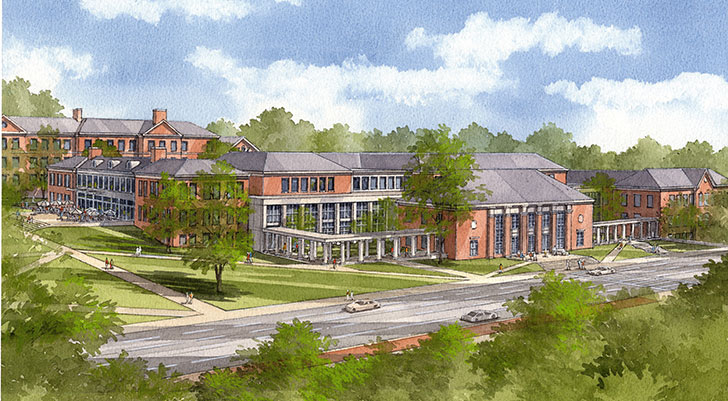 The Armstrong Student Center opens its doors in January 2014. It is being built through the support of more than 10,000 alumni and friends.
Jun 17, 2013
Campaign For Love and Honor surpasses $500 million goal
Love and Honor indeed. The Miami University campaign
For Love and Honor
, the most successful fundraising effort in university history, has surpassed its $500 million goal.
The campaign will officially conclude Dec. 31, 2013. The opportunity remains for alumni, friends, faculty and staff to share in the campaign's success by adding to its significant and ongoing impact, according to Tom Herbert, vice president for university advancement.
"This is a proud moment for Miami University that has been made possible through the passion, loyalty and vision of our alumni and friends," President David Hodge said. "Miami became only the 10th public university to celebrate its bicentennial during the course of the campaign, and the achievements of the campaign
For Love and Honor
ensure that Miami's enduring commitment to providing the very best undergraduate education will continue shaping and inspiring students well into the university's third century and beyond."
Herbert added, "The impact of the campaign
For Love and Honor
is being measured in more ways than the number of dollars raised, facilities built and scholarships named. The campaign has served to educate our alumni and friends, including many first-time donors, on the vital role their private support plays in Miami's future. The effort to make Miami stronger for current and future Miamians is a passion that will continue to define our university."
Since the start of the campaign, 105,000 alumni and friends have contributed at a variety of giving levels, including 84 who contributed at the leadership level of $1 million and above. For fiscal year 2012-2013, 18 percent of Miami alumni contributed to the university, ranking it among the top public universities nationally.
The campaign began with an objective of $300 million, but the momentum raised it to $350 million and later to $500 million. Among the campaign's tangible accomplishments:
More than $120 million in scholarship support, including 586 newly endowed scholarships;
More than $31 million in faculty support, including 31 in newly endowed professorships and chairs;
More than $100 million in capital project support;
Current and former Miami faculty and staff have contributed $16.5 million and created 99 endowed funds through the Miami University Faculty/Staff/Retiree Endowment Program;
The Farmer School of Business, which celebrated the opening of a new Farmer School of Business building in 2009, has raised more than $111 million, including more than $30 million from Richard (Miami '56) and Joyce (Miami '57) Farmer and the Farmer Family Foundation;
The Armstrong Student Center, a vibrant facility that will bring students together in the heart of Miami's campus, opens its doors in January 2014. It is being built through the support of more than 10,000 alumni and friends, including a $15 million leadership gift from Mike (Miami '61) and Anne (Miami '61) Armstrong;
Harry T. Wilks (Miami '48) continued his extensive support of Miami's Oxford and Hamilton campuses, contributing more than $8 million during the campaign, including a gift naming the Harry T. Wilks Leadership Institute and additional university support resulting in the naming of the Harry T. Wilks Theatre within the Armstrong Student Center;
Miami athletics made significant strides in upgrading its facilities through the construction of Goggin Ice Center and McKie Field at Hayden Park as well as the McVicker Football Complex additions and renovations to Yager Stadium;
The Howe Writing Center was opened through the support of Roger (Miami '57) and Joyce (Miami '57) Howe to help Miami students excel in writing. It provided consultations to more than 10,000 students during its first three years;
The Conservatory, a 7,000-square-foot multi-use facility featuring the largest fully documented collection of exotic plants in Butler County, was constructed at Miami Hamilton through the support of the Richard J. Fitton family.
The Armstrong Institute for Interactive Media Studies was endowed with a gift of $14.7 million from Mike and Anne Armstrong to challenge students to experiment, innovate and collaborate in the creative use of interactive media;
In 2007, the Miami Access Initiative was launched through a more than $15 million bequest from the estate of Lois Klawon (Miami '39) to provide free tuition to Ohio students whose families make less than $35,000 in annual income. It has drawn more than 1,400 students to Miami's campus.
Danaé Tolle, a senior psychology major from Cincinnati, was able to attend Miami through the Miami Access Initiative and a variety of other scholarships and grants.
"My mom is a single parent with three kids who makes less than $30,000 a year, and yet I'm able to get a top-notch education and enjoy a college experience that is every bit as great as any of my classmates," Tolle said. "From the financial support that made it possible for me to come to Miami to the faculty and staff mentors who are always there for me to the many opportunities I've enjoyed out of the classroom, I cannot count all the ways donor support has touched my college experience. This campaign is a powerful statement for students. You don't come to Miami for four years and leave it behind. You take it with you, and you give back to help others succeed. That's Love and Honor."
Sharon Mitchell (Miami '73), chair of the Miami board of trustees, said, "The success of Miami University's campaign
For Love and Honor
honors not only those who built our university but also the current and future students, faculty and staff who carry on its proud tradition. It enables us to attract and retain the very best educators, recruit highly motivated and talented students and create the best possible educational experience. The impact of the campaign is transformative for generations of Miamians to come."
Alumni, friends, faculty and staff who would like to lend or extend their support can make secure online gifts at
ForLoveandHonor.org/GivetoMU
or contact the Miami University office of development at 513-529-1230.