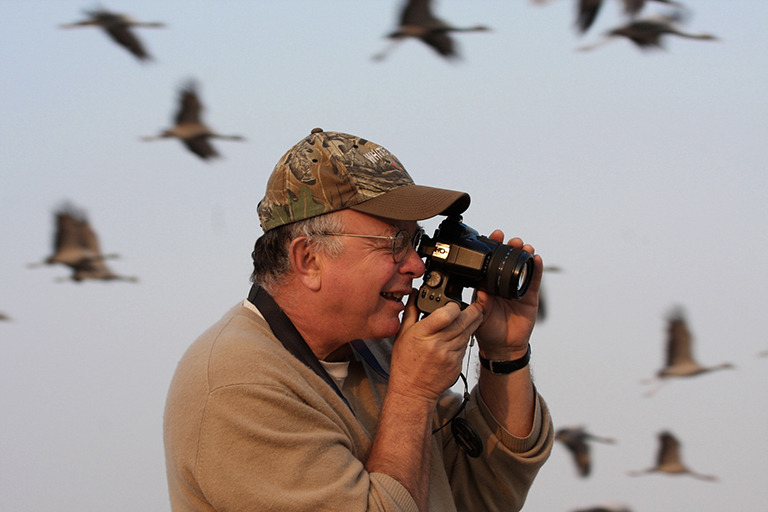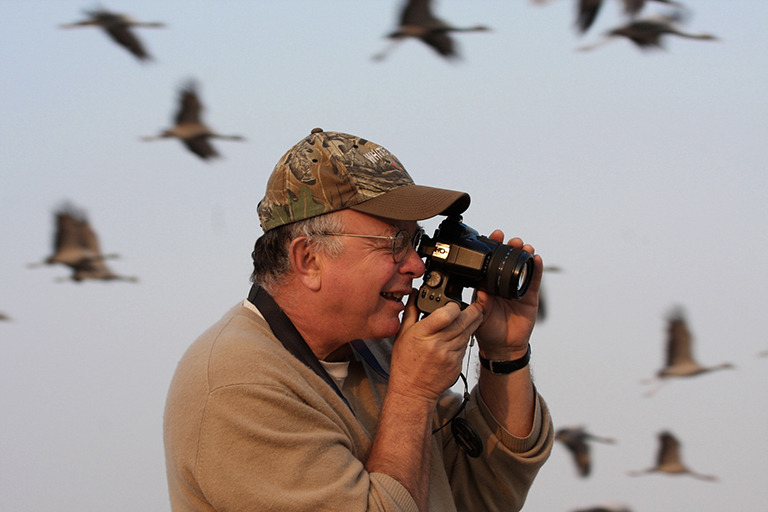 George Archibald leverages the charisma of cranes to unite people from diverse cultures and countries to work together to preserve the landscapes necessary for the survival of both cranes and people. Above, he shoots photos at Keechan, a site in northwestern India where Demoiselle Cranes winter (photo courtesy International Crane Foundation).
Oct 23, 2014
Hefner Lecture: "The Magic of Cranes: Engaging a Global Community" Oct. 30
George Archibald, co-founder and senior conservationist of the International Crane Foundation, will present "The Magic of Cranes: Engaging a Global Community" at 7 p.m. Thursday, Oct. 30, in 102 Benton Hall. His talk is the 40th annual Hefner Lecture sponsored by the Hefner Museum of Natural History at Miami University.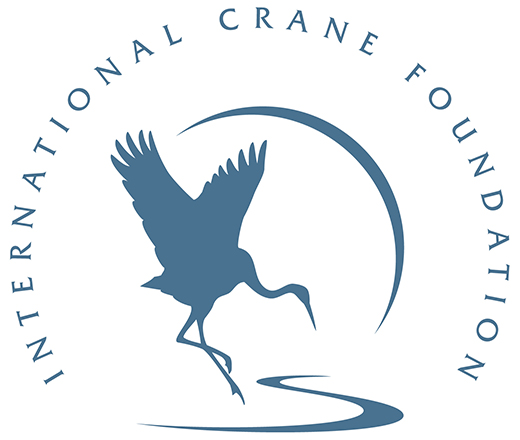 The International Crane Foundation (ICF) works worldwide to conserve cranes and the ecosystems, watersheds and flyways on which they depend.
Archibald co-founded the ICF with Cornell University colleague Ronald Sauey in 1973, when cranes were in a perilous situation and many were on the brink of extinction.
Today, ICF has more than 50 employees and supports conservation projects in 45 countries. Its 225-acre world headquarters near Baraboo, Wis., hosts a captive flock of approximately 100 cranes, including the only complete collection of all 15 species assembled in one place.
Under Archibald's direction, ICF has established a "species bank" of captive cranes and has been successful in consistently breeding significant numbers of several endangered species of cranes. He helped pioneer techniques for returning cranes to the wild.
Archibald's leadership in international conservation efforts over the past 40 years has given flight to crane conservation worldwide.
Through the activities of the various ICF Working Groups, he has helped stimulate actions that resulted in the conservation of more than five million hectares of wetlands in Asia.
Through his leadership at ICF, conservation-education programs have been implemented among the local people in remote regions of Africa, Australia and Eurasia.
In recognition of his many accomplishments, Archibald has received four honorary doctorates and many awards including the Gold Medal from the World Wildlife Fund, a Fellows Award from the MacArthur Foundation, The Wildlife Conservation Medal from the Zoological Society of San Diego and the Douglas H. Pimlott Award from Nature Canada.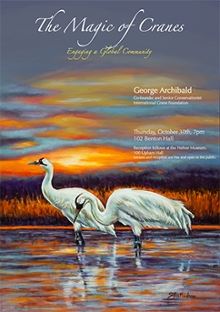 "Whooping cranes at sunset," oil painting by Susan Fox Friedmann (photo courtesy the artist).
In 2013 he was awarded the Order of Canada on behalf of Queen Elizabeth II and received the inaugural Dan W. Lufkin Prize for Environmental Leadership from the National Audubon Society.  This year he received the Jerome J. Pratt Whooping Crane Award from the Whooping Crane Conservation Association. 
A reception will follow the talk in 100 Upham Hall. The events are free and open to public.
The Hefner Lecture is sponsored by the Robert Hefner Museum of Natural History with support from many other campus organizations.