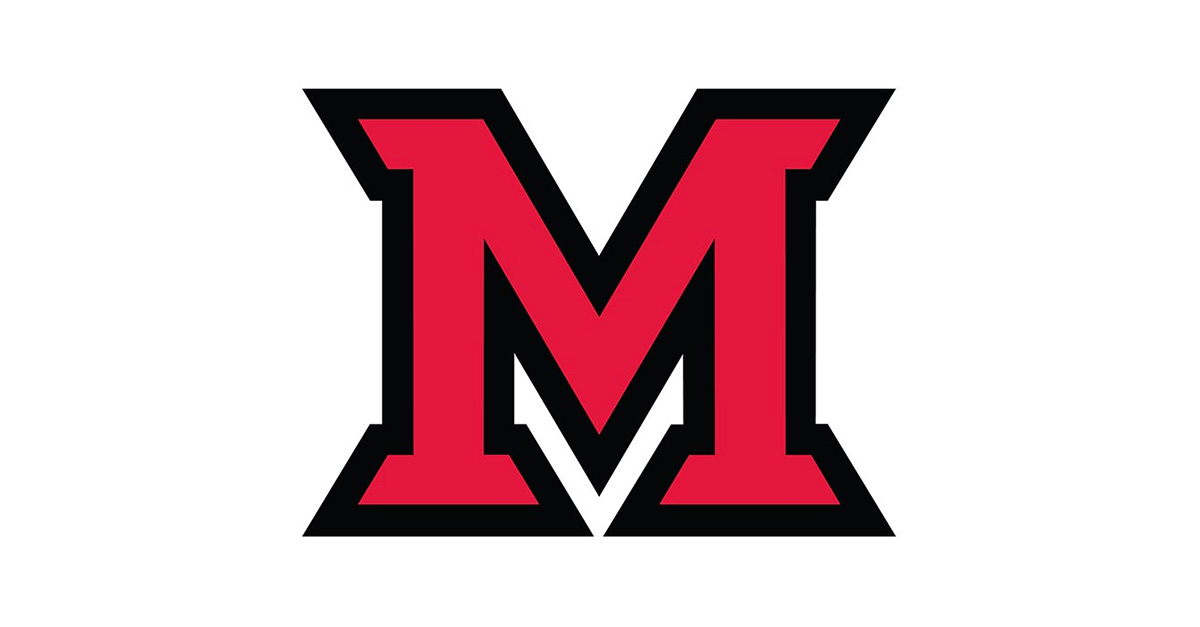 Mar 14, 2016
Miami shares in $1 million grant for biohealth research and workforce training
New research on additive manufacturing (3-D printing) is progressing via a grant from the Ohio Department of Higher Education. Miami University, as a member of the Southwest Ohio Regional Consortia, is sharing a $1 million grant through the RAPIDS (Regionally Aligned Priorities in Delivering Skills) program.
Miami's portion of the grant, $381,856, will be used to purchase state-of-the-art full-color additive manufacturing (AM) and 3-D scanning equipment and instrumentation.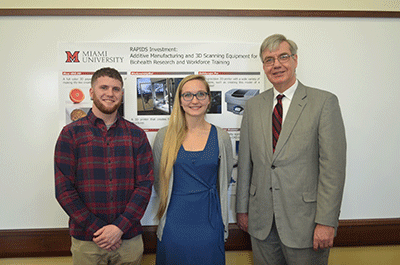 Miami seniors Tyler Watson, engineering technology major, and Elizabeth Dimbath, bioengineering and pre-med double major, with Ohio Chancellor of Higher Education John Carey. Both students spoke of the AM experiences they have already had with professors Jessica Sparks and Ayodele Abatan.
Representatives of Miami and its collaborators shared a dais with Ohio Chancellor of Higher Education John Carey Monday at an event at Miami's Voice of America Learning Center to share news of the grant and of the 3+1 access programs Miami has with several community colleges.
The RAPIDS project will expand training opportunities in AM, with a focus on the high-growth biohealth industry.
Creating a "local supply base of smart, sophisticated AM" in the region "plays to Ohio's sweet spot," said Gary Conley, president of TechSolve, one of the RAPIDS partners. "This is a critical time and the right place to leverage this technology. It's of enormous benefit to manufacturing."
Benefits to Miami include expanded technical training in AM applications for engineering students on the Oxford and regional campuses. In addition, the equipment will be used by Miami engineering faculty to create new products that Miami nursing faculty will use to enhance training for nurses and other biohealth workers.
Approximately 200 engineering students and 80 nursing students will be trained each year, and more than 600 biohealth workers will be directly impacted by this work.
The grant will be managed by a cross-functional team led by Jessica Sparks, associate professor in chemical, paper, and biomedical engineering. Collaborating faculty include:
• Kevin Messner, associate librarian and acting head of the B.E.S.T. (Business, Engineering, Science and Tech) Library.
• Deborah Beyer, associate professor in nursing.
• Brenda Barnes, director of Miami's Nursing Resource Centers.
• Jason Berberich, assistant professor in chemical, paper, and biomedical engineering.
• Bo Brinkman, associate professor in computer science and software engineering.
• Karthik Vishwanath, assistant professor in physics.
Regional campus partners will be led by Ayodele Abatan, professor and chair, engineering technology. Jim Oris, associate provost and chair in academic affairs, coordinated the consortium submission.
Through the RAPIDS investment for Southwest Ohio, Miami's campuses in Oxford, Hamilton, and Middletown; the University of Cincinnati (main campus and UC Clermont); Cincinnati State Technical & Community College; and four regional Ohio Career Centers (Butler Technology and Career Development Schools, Great Oaks Career Campus, Southern Hills Career and Technical Center, and Warren County Career Center) will work with TechSolve, REDI Cincinnati, and a group of industry partners to develop a regional workforce capacity at multiple levels in additive and advanced manufacturing, with a focus on the aerospace and biohealth industries.
An analysis by the Ohio Department of Job and Family Services, Bureau of Labor Market Information done last June indicates significant growth in jobs and demand for skilled workers in Southwest Ohio in the additive and advanced manufacturing and related occupations for aerospace and biohealth industries.