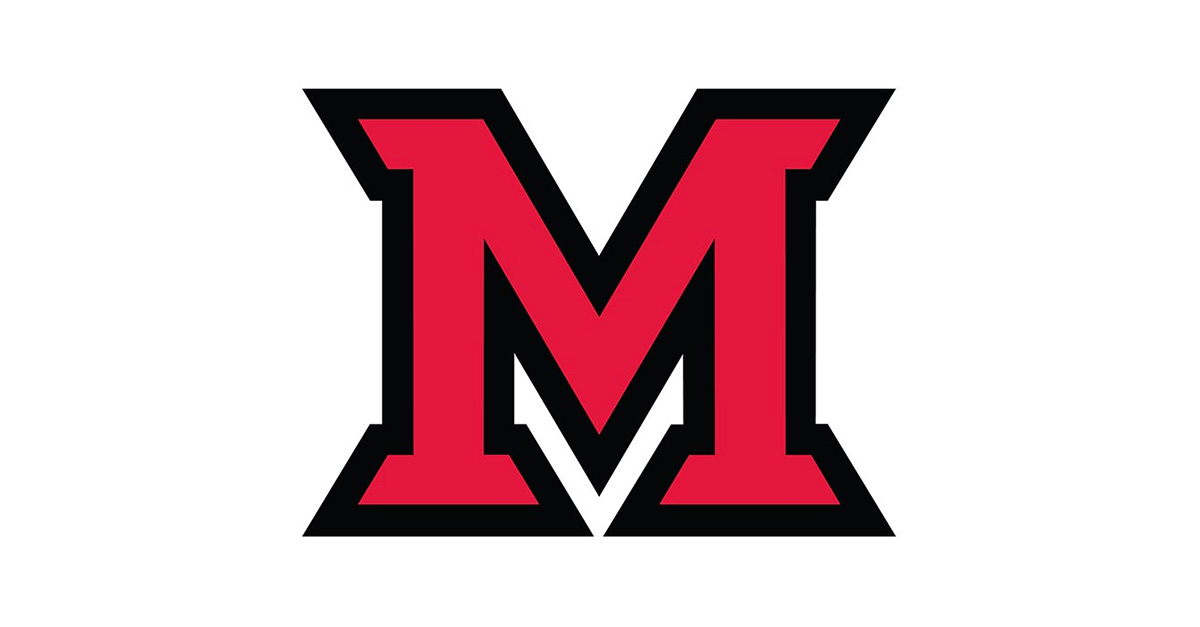 Apr 21, 2016
Career-ending injury leads football player in new direction
John Steele '14 first Miamian to receive Charles B. Rangel Graduate Fellowship
By Margo Kissell, university news and communications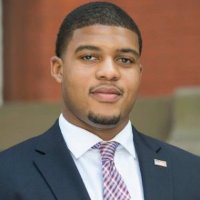 John Steele (Miami '14)
John Steele (Miami '14) was unsure of his next move after an injury brought his football playing days at Miami University to an abrupt end his sophomore year.
The 6-foot-3, 280-pound defensive tackle broke two bones and partially tore a ligament in his knee during practice. Three surgeries left him with eight screws, two plates, four wires and two suture buttons in his left ankle.
No. 99 had played his final down.
Although he was able to keep the athletic scholarship that brought him to Miami in 2009, one thought still kept running through his mind: Without football, what would he do?
It had been his refuge from a hard life growing up in the projects of inner-city Cleveland. His father was, in his words, missing in action.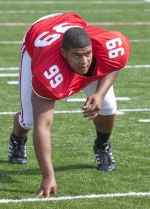 John Steele, No. 99
"My mother, who continues to struggle with an inescapable substance addiction, frequently abandoned us during a series of drug binges that would last days, weeks and, on occasion, months," Steele wrote in a personal statement he submitted with his application for the 2016-17 Fulbright grant competition. (He was named a semi-finalist.)
In the wake of those binges, he and his two siblings moved between foster care and homelessness. During one of those chaotic, unsettled periods when he was about 10, he stopped going to school for nearly a year and a half until his mother re-enrolled him.  
"Without football, I definitely would not have had the opportunity to do anything," Steele said. "It introduced me to a lot of my high school mentors and football coaches and definitely paved the way for me to go to college."
But with the sport suddenly gone from his life, he said, "My whole identity changed."
Adjusting to a new way of life
He considered dropping out of Miami and might have done so were it not for Othello Harris, associate professor of sociology and gerontology. Harris saw him struggling in class and reached out.
He invited him to study sessions with other students in his office and talked to him after class. Steele remembers their many long talks, including one that lasted four and a half hours.
"We talked about everything, and that day really, really changed my life," said Steele, who majored in social justice studies with a minor in political science.
Harris's advice stuck with him.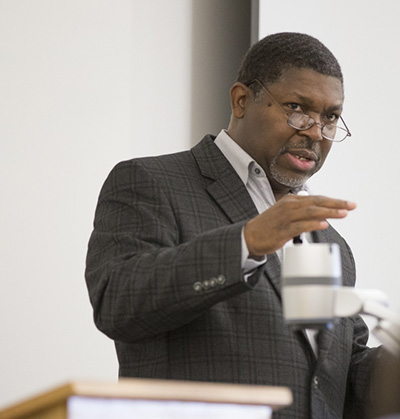 Othello Harris, associate professor of sociology and gerontology and Steele's mentor at Miami
"He said, 'Listen. Calm down. You have a lot of options. You go to a great school. Let's really focus on this education and see what we can do,'" Steele recalled.
What Harris remembers is the remarkable transformation he saw in Steele over a period of three different level classes — from struggling student to stellar undergraduate teaching assistant.
"He just dug in," Harris recalled. "I'm so proud of him, not even because of his life story and all that. I think that's important, too; you can't separate that, but because of the way he took on these classes."
Steele's grades steadily improved. He landed on the dean's list twice, in 2012 and 2013. Spring semester of his senior year he achieved the president's list with a 4.0 GPA while taking a full credited class load.
 "I think he always looked at Miami as an opportunity to turn things around and he felt like he had the support that he needed," Harris said.
When Steele learned he had been selected for the Charles B. Rangel International Affairs Graduate Fellowship — awarded to only 30 young people each year to train for careers in the U.S. Foreign Service — he called Harris to share the news.
Harris had become a father figure to him, filling the void like his South High School football coach who took him to all his college visits. Harris helped him pick out a suit for Miami's Fall Career Fair. He taught him how to tie a necktie. And he fed his voracious appetite for reading by turning him on to books he thought would interest him.
Some of those books, Steele later told Harris, saved his life when he returned home to Cleveland over Miami's monthlong winter break.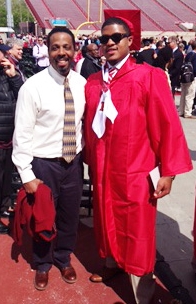 Steele at commencement, with one of his former high school football coaches
With nowhere else to stay, Steele had asked his former foster parents if he could live with them for a few weeks; they agreed. But with no car and a house not equipped with cable, television or Wi-Fi, Steele felt trapped.
Then one day, eight books arrived in the mail. He read every one, devouring some in less than a day. He said he was particularly motivated by autobiographies on Malcolm X and Harry Edwards, an African-American sociologist who earned his doctorate at Cornell University.
"Both men beat the odds and really inspired me to persevere," he said.
During his senior year, Steele participated in Miami's "Inside Washington" internship program, which introduced him to Capitol Hill. That experience eventually led to various positions with the Congressional Research Service, Congressional Black Caucus Foundation and the Legislative Service Commission of Ohio.
Graduation day in Miami's Yager Stadium, where he had played football, was poignant, made even more special because his mom, along with his sister and two young nephews, attended.
"Words really can't describe it, but it meant that much more knowing my family got to see it up close and personal."
Steele said he strives to be a positive role model for his nephews, who are growing up in the projects like he did.  He has seen the difference strong mentors have made in his own life, and he wants to do the same for them — and others.
Paying it forward to young students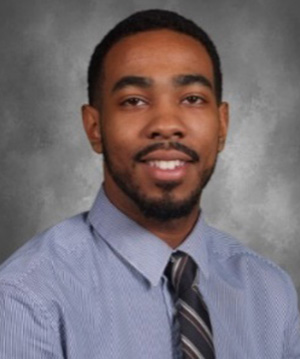 Robert Hendricks (Miami '11, MA '13), assistant dean of students at Boston's Match Charter Public High School
Since January, he's been working as a student support specialist at Boston's high-performing Match Charter Public High School, where 92 percent of the students are black or Hispanic and 73 percent are classified on key measures of high need, including income status.
He works alongside Robert Hendricks (Miami '11 MA '13), assistant dean of students at the school, who saw Steele's immediate impact on struggling students.
Steele shares his story with them. He tells them how he once played football for Miami, but it didn't work out so he's glad he had his education to fall back on.
And he tells them something a coach once told him: "When the sweat dries up, you have to be prepared," he said. "I talk to my kids in that kind of context."
Hendricks said Steele relates to the teens on a different level than other staff members.
"I think it's because he understands a lot of their issues — either personal, at home, at school — given his background and the similarities," he said. "With him being so outgoing and extroverted, he's able to use that very openly, and it's working wonders with the other students."
Steele said he wants to show them that they, too, can succeed if they work hard.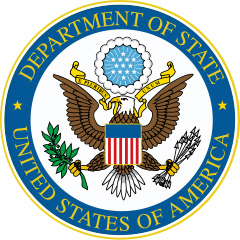 The Rangel Graduate Fellowship will prepare Steele for a career with the U.S. Foreign Service.
His work at Match continues as he gears up to return to D.C. for the May 18 start of the graduate fellowship, which has a focus on diversifying the foreign service. The fellowship covers the expense of graduate study and also provides two summer internships — one on Capitol Hill, the other in a U.S. embassy abroad — as well as mentoring from a foreign service officer.
Just this week he decided on George Washington University's Eliot School of International Affairs, after seeking Harris's input. He starts grad school in August.
While he's looking forward to training for a potential career as a diplomat with the U.S. Department of State, he said leaving Match will be difficult. He never expected to build such strong relationships with so many students in such a short time. And he didn't know he'd get so much in return.
Steele — who said he has struggled with self doubt at times because he was at such a competitive disadvantage for so long — said his students have shown him that his experiences, culture, the way he walks and talks, and everything else about him is OK.
"As much as I've done for the students at Match, they've also done something important for me," he said. "For the first time in a long time, I feel as if I can be myself."