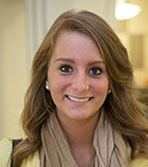 Class of 2013
Major: Marketing
Hometown: Cleveland, Ohio
Transitioning to Miami
I earned my Associate's degree from Lakeland Community College and then decided to pursue a Bachelor's in business at Miami. The Farmer School of Business has a good reputation for marketing, which is a big reason why I chose Miami.
I have always been a homebody, so transferring so far away was a big shock. I was nervous about my roommate, living situation, and making new friends - just the whole process, but everything was great. I now live off-campus with my roommate from my first year - we have become really close friends. All of the other girls that I live with were actually in the same dorm as me that first year as well.
Faculty connections
I have connected with several of my professors because I was constantly asking for help. I had to conquer my unwillingness to do so, but the professors here are friendly and ready to help you. I know that professors deal with many students, so whenever they call you by name, it's a nice feeling. Figuring out what classes to take in what order was also hard, but my academic adviser sat down with me and really helped me.
Getting involved
America Reads is a tutoring program where you assist children in the local community. I was nervous to get involved at first because I wasn't sure if I was ready to balance schoolwork with other activities. But I did it, and I am glad I did. The kids look forward to it so much and helping someone learn is an amazing feeling.
Hard work will pay off
I have learned that I can push myself a lot harder than I think. Making such a drastic change in your life - well at least from my point of view it was drastic - forces you to be a different person. It also taught me to not be afraid to make friends or to put myself out there. Hard work will pay off - that is a big part about what I've learned coming to Miami.