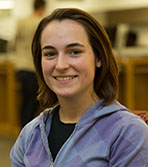 Class of 2014
Major: East Asian Languages and Cultures
Hometown: New Palestine, Indiana
I love my major
I knew I wanted to have a language major, and Chinese seemed really useful. I've developed a close relationship with the professors. Even if you think you are not good at something, they are still willing to be your friend and your mentor. One professor even took our entire class to dinner at the end of the semester. There are very few of us in my major so it encourages us to work together, and we have a singing competition and a skit competition once a semester. It's also fun to practice because there is such a high population of Chinese students here.
Tianjin Summer Program
I chose a 6-week summer study abroad program in China with the help of Dr. Liang Shi, my academic adviser. As a third year Chinese student I had two different teachers while I was there (who were not Miami professors, but affiliated with the university in Tianjin). One taught literature/intensive reading and the other taught conversational speaking. We lived in a brand-new dorm that had a food store and a bar. It even had a desk staff that could help you get around town. The food in Tianjin was...well for the first few days I probably lost ten pounds because it was a completely different diet. It was so, so spicy in this region. I thought it would be all rice and vegetables, but it was more noodles.
At times, I was afraid to talk to people because I was afraid I wouldn't speak the language very well. You learn so much more and you get so much more out of the program if you are willing to go up and talk to strangers. It gets easier with practice!
Navy ROTC is rewarding
It is a big commitment and we spend about 40 hours a week doing things related to the program. Each semester, we are required to take four hours a semester of Naval Science-based classes. We also work at the football games, plan fun activities like the Birthday Ball, which was like a prom for us, and do fundraisers for military veteran support organizations. I think the experience is really rewarding. It has taught me a lot about leadership and responsibilities, time management and organization - things that I didn't really have to worry that much about in high school. I wouldn't be the same person I am today without the training that I have received.