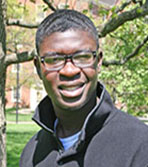 Class of 2015
Major: Kinesiology
Hometown: Columbus, Ohio
Undergraduate research experience
Conducting research was new to me, but I was invited to join Dr. Haifei Shi and I took the opportunity. At first I was a little hesitant and even a little intimidated because I was the youngest in the lab, but I wanted to gain experience and try something new. I work in a zoology lab, studying leptin, a hormone that regulates energy balance. I won an undergraduate research award (URO) that helps fund my research and Dr. Shi has been great.
I label and prepare tubes, weigh mice, observe surgeries with mice, and take notes. I mostly do a lot of observing, and reading and writing right now, but you work your way up in the lab and earn more responsibilities. I was a little squeamish about the mice at first but I got used to it.
Last spring, I had the opportunity to be a primary poster presenter at Undergraduate Research Forum. I had previously presented at a conference in Indiana, which was good practice, but I was still a little nervous to present in Oxford. Dr. Shi worked with me to help prepare and made sure I knew it was okay if I didn't know the answer to someone's question.
My research relates to real world problems
The research topics Dr. Shi focuses on are centered on obesity. We found that the more body fat someone has, the more leptin they have and that obese people become leptin resistant. When they eat, they don't know they're full. We're trying to find out exactly what leptin does to the body and how we can use it to help fight obesity. At first, I didn't realize obesity was such a big issue and I didn't know it was tied to so many social issues. I see the problem from many different angles now.
Overall, research is quite the experience! This is the type of learner that I am. If I'm able to go hands-on - to touch it - then I'll always remember it.