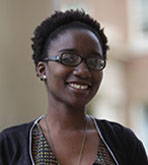 Class of 2014
Major: Supply Chain & Operations Management
Hometown: Pickerington, Ohio
The value of teamwork
Successful team members are willing to sacrifice to get things done. Team projects help you develop your writing skills and your communication skills. People interpret things differently and you learn to pick out important data together. For one project, we had to explain different aspects of a case. If you could defend your position, even if you were a little off, you could get points.
Relationships matter
Michelle Thomas, director of business student organizations, has been influential. I met her through one of my professors and I know she's dedicated to anyone who needs her help. I'm in the process of starting a multicultural business student organization and she helps me with planning, finance, reaching out to different organizations, and planning upcoming events.
Yvania Garcia, assistant director of Office of Diversity Affairs, has also played a role in my time at Miami. She was my first-year adviser, and now she works in diversity affairs. She's less like my adviser and more like my friend. She calms me down when I need it and we go out to dinner regularly.
My future career will be hands-on
A question I get a lot is what is supply chain management. If you have a product, there are three key points - logistics, planning, and distribution - that interact to increase quality and speed and lower price. It's a mix of marketing, management, and information systems and analytics. It's the process that takes you from raw materials to a finished product.
I started in marketing and decided I want to work more hands-on with developing a product rather than just marketing it. I want to work alongside marketers, but also with engineers and researchers.