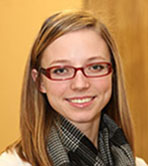 Class of 2013
Major: Art Education
Hometown: Powell, Ohio
Art education is a great fit for me
I knew I wanted to major in art in general, but I didn't know exactly what program I wanted to pursue. I first tried studio art and really enjoyed it, but I didn't find it to be very flexible with job opportunities. I also looked at graphic design, but it didn't fit for me. I then switched to art education. Art education majors are kind of like our own cohort. I take general education classes, like developmental psychology, as well as art education classes, which are focused on art appreciation and lesson planning specifically for art education. I also take studio art classes, since that is my focus.
After graduation, I want to teach and eventually work in the art community in that school district. And I also hope to move up in the district to principal or that type of position, but that depends on if I get my Masters and how everything works out.
Getting involved
I enjoy the many different experiences and opportunities that Miami has to offer. For any new student, I would suggest taking on as many of those opportunities as they can because you're not going to have those same opportunities after you leave. I currently participate in Saturday Art, a program here in Oxford. The kids in the community come and we give art lessons on Saturdays. It's a great opportunity for them and helps us practice. I'm a member of Alpha Omicron Pi and PR Chair for the National Art Education Association. I also work at Harris Dining Hall.
My first year, I took Allies, Advocates, and Action, which is an Honors seminar where we explore social issues and community involvement. I worked with Kari Taylor, senior associate director of the Honors Program, to develop and revamp the class and I'm now helping teach it as a facilitator.