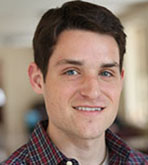 Class of 2013
Major: Finance
Hometown: Stow, Ohio
It's always been my passion
I have always been passionate about business, and I've known since I was 12 years old that I wanted to be in the business world someday. I read many of Donald Trump's books when I was younger, and he was a finance major, which helped me decide that finance would be a great foundation for my future. I joined the Investment Banking Club as a sophomore, learning even more about finance and concluding that it was the right path for me. Our club has two goals - one is the asset management, where we manage a portfolio and the other is educating members on what investment banking is and how to network to get into the world of finance.
China Business Program
Dr. David Yen, director of the China Business Program, spoke during orientation about the program and its benefits. I think learning about the Chinese language and culture will be a great asset to me as a future businessman. I am currently studying abroad in Beijing at Peking University as part of the program.
I also had a Chinese professor my first year who has really helped me in the program. He's been a mentor for me throughout my time at Miami. I meet with him often and I've been to his house for Chinese New Year parties.
Honors Experience
As a project for the University Honors Program, I'm actually teaching a class that I helped design. It's called "Well-Being, While Being You" and I'm co-teaching with another honors student, a junior accounting major. We took the class during our first year, and later decided to take it over and redesign it. The class focuses on transitioning from high school to college and reflecting on your different experiences. It also covers your well-being during college, including classes on topics such as time management and nutrition.