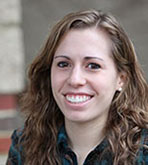 Class of 2013
Majors: Graphic Design, Marketing
Hometown: Western Springs, Illinois
Pursuing a double major
During my junior year of high school when I started my college search, I was interested in architecture. I looked at a few different programs, but realized it wasn't for me. I had the opportunity to take a graphic design class in high school and really liked it. Only about 20 students per year enter the graphic design program at Miami, which means we have the opportunity to work with the same professors and develop close relationships. We are required to have an internship and faculty members are helping you develop your portfolio the whole time you're at Miami.
I wanted to pursue my interest in art, but at the same time, my parents are both from business backgrounds. I thought it would be good to have knowledge of the business side in addition to skills in art, so I chose to add a marketing major as well.
Highwire Brand Studio
For my senior capstone, I took part in FSB's Highwire Brand Studio, which was great because it combined my two majors. In the class, there were marketing and graphic design students along with some other majors. The class is divided into teams and you're given a real-world client project to work on. You do everything from market research to developing prototypes and testing the prototypes in the test markets and developing a plan for implementation. Highwire allows you to get experience actually creating a branding strategy.
Study abroad experience
I had the opportunity to spend a summer studying in Spain and Luxembourg. I did a summer business program through the Farmer School of Business, and spent three weeks in Differdange and three weeks in Barcelona. I felt that studying abroad was a more laid back environment, but I was still getting credit toward my business major and experiencing another culture. I took two business classes; one was in finance and the other in social entrepreneurship. We visited several different banks in Luxembourg and learned about the financial sector. Then in Barcelona, we visited with many different social entrepreneurship organizations to learn about their operations. This was my favorite part - gaining real world experience and not just learning in the classroom.