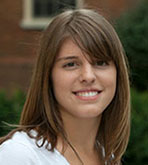 Class of 2013
Major: Anthropology
Hometown: Dublin, Ohio
Why Miami?
I was looking at schools abroad and out-of-state, but my parents both went to Miami - and are now Miami Mergers (when two Miami alums marry each other). A couple of friends and I visited Miami to appease our parents, and as we were walking around, we all had that moment where we said, "we like it here." Miami is the closest to home of the schools that I looked at. Being so close has actually been really nice - it was my birthday recently and my parents visited for the day. It's also nice to be able to drive home when I need to.
Invaluable advising
My first mentor, Dr. Scott Suarez, suggested I apply for a grant to do an original research project and with the grant, I looked at play behavior in juvenile gorillas at the Columbus Zoo. It was amazing - I formed real connections with the gorillas and I learned so much. Dr. Suarez also pushed me into looking at Miami's anthropology research program in Cambridge, England and he has been an invaluable adviser.
Conducting research internationally
I spent a semester conducting research through the Cambridge Junior Visiting Fellows Program, which is specifically designed for biological anthropology students. It was an amazing experience. In Cambridge, you meet with your professor one-on-one or in small groups to discuss various topics. You actually get to test out your ideas and not just sit and listen.
I also spent a summer 2012 at a chimpanzee sanctuary in Zambia with a professor from Miami, and my adviser and a peer from Cambridge. We studied manual laterality-the one thing that is argued to be unique about humans, which is the fact that humans show a hand bias, or people describing themselves as right-hand dominant or left-hand dominant. We conducted research to determine if this trait is related to humans specifically or if is this is something we share with other apes?