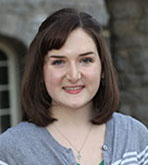 Class of 2014
Major: Quantitative Economics
Hometown: Mount Sterling, Kentucky
I love my classes
I know it's why you come to college, but I really enjoy the classes. I seriously love them - the sizes are perfect and I've always had really good professors. I think the professors are more engaged and approachable than at other schools. Tom Holm, my professor for a public speaking course, was so enthusiastic and created a great classroom atmosphere because he made it like a family. He also helped me become a better public speaker because he was so personable. I took his feedback more to heart because he was almost like your friend and not just a professor.
Adjusting to college life
The hardest part of my first year was getting adjusted to college life. I was the only one from my high school, so I had no connections at Miami. Getting adjusted to the classes, to the different study style, and having different people in every class, and getting involved and finding the organizations that fit with me were all challenges.
But the student organizations I'm involved in here help. I keep building connections here on campus that will help me in the future.
Plans upon graduation
I want to go to law school. I decided that through a combination of my time in high school and at Miami. I was pretty sure I wanted to go to law school because I did Mock Trial in high school and I really like public speaking. But when I came to Miami, I took my first economics class and after various research, chose economics as my major.