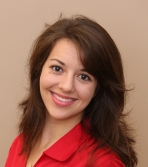 Class of 2014
Major: Zoology, Minor: Neuroscience
Hometown: Leawood, Kansas
Out-of-state school
Choosing a reputable, liberal arts school was a priority of mine when choosing a college. I wanted a college in another state that was safe, yet offered a diverse student body. I was excited to meet students from across the U.S. and from other countries. The faculty and staff at Miami were welcoming when I visited and conveyed that warm feeling that an out-of-state student needs because they don't often go home. Traveling to and from Miami has been easy because it's close to larger cities and there are convenient shuttle services to airports.
A love for science
I have always been interested in science. More recently, I have been fascinated by the function of the eye and the disorders that affect one's ability to function on a day-to-day basis. I chose to tailor my curriculum at Miami toward classes that would prepare me for a professional optometry program. One of Miami's outstanding professors helped me plan my path and I have received cutting-edge instruction and research opportunities here. Miami's I also served as Vice President of the Pre-Optometry and Visual Sciences Club and gained leadership experience.
Get involved
I think Miami is filled with a spirited student body that attends and supports various sporting events. There are several ways to become involved in Miami's Division 1 athletics, and club and intramural sports. I performed as member of the dance team and met so many talented people. Miami's marching band is exceptional and some of my best memories include listening to them practice in the band field after classes.