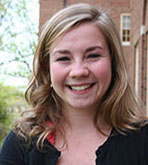 Class of 2015
Majors: Marketing, Interactive Media Studies
Hometown: Cleveland, Ohio
Leadership seminar with President Hodge
The best professor I've had so far was Miami University President David Hodge for a leadership seminar. He taught a class of approximately 20 first year students. At first, I was so nervous about having him as a professor and sharing my opinions with him. He was awesome and grounded, and has such a great vision for Miami and models what a good leader is. He knows that he can't reach out to each individual student at Miami, but hopes by leading this class each semester that he's able to hear the voices of Miami. Whether people came in with prior leadership experience or not, the books we read and the discussions we had helped develop each student.
Business is a good fit
I went to a summer business camp called "Learning About Business" before my senior year of high school, where we learned about finance, human resources, marketing, international business, and economics. I realized I liked marketing because it's all about people and sales and market research and advertising. When I visited the Farmer School of Business and saw the different portfolios, marketing really seemed to fit and I could see there were really great opportunities at Miami.
Real life experience
I'm a member of Pi Sigma Epsilon, a business fraternity. Our project last year for first years was working with Kittrick Management. We came up with a new marketing strategy and pitched the idea to them. The winning team was offered a one-credit hour internship to implement the ideas. The company is in Cincinnati, and we work remotely from Oxford. I'm personally responsible for building a website.