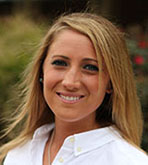 Class of 2013
Major: Speech Pathology and Audiology
Hometown: Cincinnati, Ohio
What is research?
I work in a research lab where we study dysphasia, or swallowing disorders. After my sophomore year, Dr. Donna Scarborough, my anatomy professor, asked if I wanted to join her team. We recently worked on phase three of a gag study - which is testing whether a pressure point on the palm moves a gag reflex back further in your mouth, allowing more possibilities for dental work. I analyzed heart rate data, figuring out if the device affects heart rate, and if it's safe.I didn't realize how much was involved in conducting research, or really what research meant until I saw it first-hand. Seeing how the study has progressed gave me an idea of how research evolves and becomes interchanging - you have to change things throughout the phases to make it better.
Studying health care in The Gambia
I went to Africa last summer as part of "Health Care in The Gambia." I was the only speech pathology major on the trip, so I had the opportunity to personalize my experience. I volunteered at a school for the deaf and worked one-on-one with the teachers and staff. One of the goals of the trip is to design your own research paper and I chose to research how The Gambia identifies the deaf and what services are available. We were also able to talk to high officials of the country and learn about different aspects of life in The Gambia.
Applying classroom knowledge to real life
My time at Miami has taught me how the things you learn in class sometimes aren't always the most important. It's definitely a good foundation, but taking that knowledge and applying it to other projects and activities is important. I always try to think about how am I going to use it in a job, and how can I use it with my future patients and clients.
My life would be different
My life would be so different if I didn't go to Miami. I also think Miami will make a difference in my graduate school experience. Some of my friends who go to other schools feel like they're just a number. It's nice to get individual attention here and to have the opportunity to conduct research. It's definitely going to impact the next stage of my life.