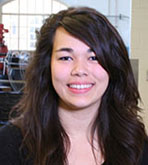 Class of 2015
Major: Mechanical Engineering
Hometown: Strongsville, Ohio
SEAS challenges you
The best thing about the School of Engineering (SEAS) is that it challenges you. There are so many in-class projects that let you actually apply what you are learning to real world problems. In some classes, you just sit there listening to a lecture and taking notes and you don't really apply what you're learning, but in SEAS classes, you are using your knowledge in the labs and in undergraduate research programs. I also enjoy working with other students and building relationships that I am going to have for the rest of my life.
Project Highflight
I was a member of Project High Flight, which involves working with 38 other students to create a balloon that will reach near space. It involved designing, fabricating, and flying a lighter than air vehicle (balloon or blimp) to edge of space (around 120,000 feet) sometimes also called "near space," and keeping it there for an extended period of time. We even worked on a scientific experiment to test for microscopic life in the near space environment.
We faced some problems with High Flight, which were mostly just figuring out the different variables about reaching near-space, and we didn't know certain rules and regulations about where our balloon could and could not travel. The project was great because it lets me work with other students and not just those in my discipline. Being exposed to the other disciplines will make me a well-rounded person.
Faculty connections
The best thing about working with Bob Setlak, a manufacturing and mechanical engineering faculty member, is that he lets us take control of the class and work together as a team to solve a problem. And even though we end up struggling a little bit with certain problems, he doesn't come over and tell us the answers. He lets us figure it out for ourselves and I think being able to solve those problems without any other help is very valuable.