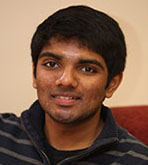 Class of 2013
Majors: Biochemistry, Zoology
Hometown: Mentor, Ohio
Conducting research as an undergraduate
I'm heavily involved in research and study HIV. It's really cool how we can look at something at the microscopic level and then draw a big picture perspective from it, in terms of targeting how this type of drug or that type of drug might help impact the replication of the virus.
My research at Miami helped propel me into an internship at the Cleveland Clinic the summer between my freshman and sophomore years. I've now worked in a department of pediatric neurology lab for the past two summers. I conduct research with the tick disorder called Tourette's Syndrome. I talk with children who have the condition and their parents and find out whether they have any problems with headaches or sleeping. Specifically what we're trying to find out is if people who have Tourette's Syndrome have an increased chance of having headaches or sleep problems because of the underlying condition.
Faculty connections
Dr. Tolbert is like my second father in a sense. He understands where I'm coming from, what kind of goals I have, and where I want to go with my life. He also understands that there are other aspects to my life and that I have to balance academics, extra-curriculars, and research. He's very flexible in letting me come and go in the research lab as I wish, but he's also very supportive if I ever need anything from him or had any specific questions.
For letters of recommendation and for resources to gain access to internships, he is the person I go to. I'll even go talk to him about sports, what's going on in my life at this point, and we go to lunch sometimes. He's awesome, he's the one mentor I've had and the greatest role model I've had at Miami so far.
Outside of the classroom
I'm the president of the Honors & Scholars Advisory Board, which is the governing body of the Honors Program. We do fun events, like a Make A Difference Day and Geek Week, and try to keep honors students engaged in the community and also provide advising sessions. I'm also heavily involved in Habitat for Humanity. I go on service trips with them from time to time. I'm also in a few medical organizations, including Miami Med.
It just takes good time management to balance everything. I keep a calendar with every single thing I have to do because I would not trust myself to remember everything. I write down every event I have to be at, every meeting, homework in my classes - If I don't have my planner, I'm lost.