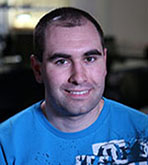 Class of 2013
Major: Computer Engineering, Electrical Engineering
Hometown: Beavercreek, Ohio
Project RedBlade
We designed an autonomous lawnmower and snowplow and entered into two different national competitions, and in one there were dynamic obstacles that we had to mow around such as flower beds and fences. We won $10,000 and placed second out of 15 teams in the ninth annual Institute of Navigation (ION) Robotic Lawn Mower Competition held in Dayton. The biggest challenge of the project was the actual physical build - at the beginning of the semester we could either use the old platform or create a new platform, and we decided to build our own platform, so we actually went through and created every piece ourselves.
A project like this takes several thousand dollars and most projects are in the sub hundred range, so without funding through a series of grants and other sources, we wouldn't even be able to get done what we need to get done.
Applying what you learn in the classroom
Project based learning gives you a whole different look on academic work. Instead of just sitting there and figuring out equations and stuff like that, you actually get to apply what you're learning. It allows you to get a better grasp on what actually goes on in a project and to work with a team toward a common problem.
Engineering at Miami
The biggest strength of engineering at Miami is how students interact with each other. The class sizes are so small you are actually able to get to know every person on a personal level. You're able to meet outside of class and do homework and work on projects together. It's a whole different experience than what I hear from other students at other universities.