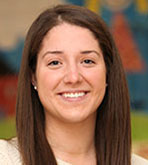 Class of 2013
Major: Strategic Communication
Hometown: Mentor, Ohio
Real life experience
I interned during summer 2011 with the Cleveland Clinic in the marketing department for 12 weeks as marketing service side intern. It was a great opportunity, and I think having that experience going into my junior year gave me a leg up and helped me build a portfolio. It was a great opportunity, and I got to experience many different aspects of marketing, whether it was digital or print marketing.
Professors want to help you
One professor in particular has impacted my Miami experience. I had Jan Taylor for principles of marketing and a consumer behavior course. I love Jan and can't say enough good things about her. I think what makes her a great professor is that her classes are always so interesting and it wasn't just listening to a boring lecture. Even when there was a lecture, she made it interactive and engaging. And she does have a genuine care and concern for her students - she wants you to do well. I interned last summer with Rosetta, and Jan was the one who said, "Hey, send over your resume, I'll send it to them", and helped me get my name out there. Jan sticks out in my mind when I think about Miami because I know she really cares about her students and wants to help you.
Learning to live on your own
One challenge about coming to Miami as a first year is adjusting to living on your own. Especially when you're living in a residence hall, you have to learn not only how to live with one other person, but also the 12-15 people living in your corridor, especially since you're sharing a bathroom with them. I wouldn't necessarily say that the transition was difficult because Miami eases the process. You arrive the Thursday before classes start, meet with your RA, and meet the people in your corridor to help you get situated.
Another big challenge is time management. I think it's something each student needs to figure out on their own - what works for them. I think some good advice is to plan out your time so you don't get overwhelmed and stressed.