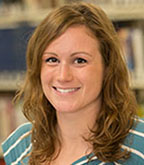 Class of 2013
Major: Zoology
Hometown: Helena, Alabama
Relationships make an impact
My favorite part about Miami is definitely the people that I have met. There are so many people that have invested in me and taken me under their wing that it doesn't seem like a coincidence - it must be something that is valued here. One of the things I found so impressive when I visited, and still do, was that everyone cared about me as a person. I am not just an athlete or a student that has a good GPA to make the school look good.
Assistant Swimming Coach Mark Davis has been there every step of the way and has worked with me to make things happen. The same goes for Dr. Marlo Jeffries who I conduct research with. It is obvious that we are not just doing grunt work all the time, she wants to give us responsibility and she wants us to succeed. I am looking at graduate schools and she is going to be a key factor in helping me through the process and networking. The people I have met and who have invested in me have been great and hopefully it is paying off for them, I am trying to make them proud!
Research experience
One of my research projects is developing the sheepshead minnow, which are fish that live in estuaries as a model organism. We want to see how contaminants in the aquatic environment affect the immune system of these fish and we look at tons of immune parameters such as white blood cell count, gene expression, and antibodies.
I am passionate about my research because it is so relevant to current issues. For example, one of the contaminants in the huge oil spill in the Gulf of Mexico was a compound called benzopyrine and we are planning on exposing our fish to this contaminate to see the effects on their immune system.
Zoology major
I was undecided for my entire first year and had no idea what I wanted to do. I took Dr. Oris' environmental biology course and absolutely loved it. I never thought of myself as a science person, but the course made me see science as more political and modern. I had always considered myself as more of an English-literature type of person. Balancing everything has been hard, but I like it so much that it's worth it.