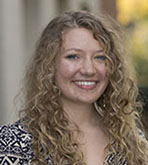 Class of 2013
Major: Zoology
Hometown: New Philadelphia, Ohio
You can make an impact
I joined the African School Advancement Program (ASAP) freshman year by recommendation of a friend. ASAP is a completely student-run organization, founded in 2002. We have a two-tiered mission statement. First, to enhance primary and secondary education in sub-Saharan Africa because most students only get schooling until they are twelve. Our second aspect is increasing awareness of the education crisis because many people here take for granted the incredible educational opportunities available.
ASAP sends about 10 students to a Northern Tanzania primary school for a month each summer. I hadn't ever considered traveling to Africa as a part of my undergraduate experience, but soon the idea started growing in my mind. I went home during fall break and asked my parents if I could go, and somehow they were incredible and let me pursue the opportunity. It was a phenomenal experience - we probably learned more from the kids than we could ever teach them.
After returning from Tanzania, I became president of the organization and have served for the last two years. I saw the need to create a sustainable organization so that when students leave after their four years here it will continue on. We have actually branded the organization - I worked with a graphic designer to design a logo and image, so we are more present on campus. We have also been a lot more involved with social media awareness events and cooperating with other student organizations.
I love hearing people's stories and I have realized that I can learn so much more from others than I can offer to them. My eyes have been opened to the incredible people that are out there in this world and I have a huge passion to meet those people and help out in even small ways because they add up. It is also great to see how much of an impact that a student who is 19 or 20 years old can make on the world. It can be overwhelming when you're just one person wondering how much of a difference can you really make, but you really do when you go year after year to the same school and really investing in the students.
What does the future hold?
Zoology is really interesting - there are a lot of options of what you can do with it after graduation and I knew coming in that, unlike many zoology students, I didn't want to be pre-med. I started investigating other options and came across genetic counseling, which is a pretty new field. Genetic counseling combines science and psychology counseling, and you work in a hospital or clinical setting, not a lab. As a genetic counselor, I would work with a team of doctors and they refer patients to me based on their medical details that might implicate there is a hereditary disorder, genetic disease, or something where they want to do genetic testing and further analysis. I want to encourage people to understand their health and how their genetics play a role in that.