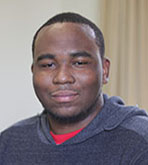 Class of 2015
Major: Computer Science
Hometown: Hamilton, Ohio
Why Miami?
At first, I didn't want to come to Miami because it's so close to home. I felt like all of the people from my high school went to Miami's Oxford or Hamilton campus. I then visited campus during the Bridges Program, which is for underrepresented high school seniors. I spent the night in Oxford and got to explore campus and stay in a first year residence hall. I pretty much fell in love with Miami during that visit.
My first year living learning community
I've always been interested in government service and want to work for the government after graduation. I also have an interest in politics, so I decided to join the Government Relations Network living-learning community. Even though I'm not planning on working on the Hill or going to law school, it's still taught me a lot about networking and the importance of keeping in contact with people that you meet.
I've been on several trips with people in my corridor. We went to Washington, D.C. over spring break and met with U.S. state representatives and senators to promote higher education and undergraduate research. We also went to Columbus for State House Day, where we met with our state senators and congressmen.
My mentor has opened doors for me
Randy Thomas, the director of institutional relations, is my mentor. I intern for his office as technology director and help him with his website and anything technology related. He also manages the Government Relations Network and serves as the chairman of the Credit Union Board of Directors. He was a student at Miami in the 1980s and helped start the credit union. He's helped me along the way and definitely opened doors for me, so I try to repay him with anything he needs help with.
Real world experience
As a second semester freshman, I had the unique opportunity of being the vice president of technology for the student-run Miami Credit Union. I managed everything technology-based, which included everything from making sure everything is running smoothly to the printers and security cameras working correctly. Now, I manage the website. This semester, I was in charge of guiding the credit union from our current web host to a new web host, and worked to save $700.
There are only two student-run credit unions in the United States - Miami University and Georgetown University. And it's truly a great experience for me because I started doing things as a first year that I would normally be doing after I graduate.