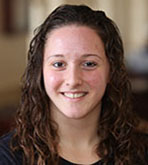 Class of 2013
Majors: Math Education, Statistics
Hometown: Canton, Ohio
Professors become friends
Many profesors have made an impact, but definitely the one I worked with as an undergraduate teaching assistant (UA), Billy Fiddell. He was a statistics professor during my first year, but now he's working on his PhD. As a UA, you basically work with the professor as a mentor. I learned various teaching methods from him and worked with him to grade quizzes and tests, and I actually taught a class session. Then after I was done, we talked about what I did well and not so well.
He's actually someone that I still keep in contact with. When I went to visit a friend at another school, I actually met with Billy for dinner to talk about graduate school. I know that when I need help with homework, I can still contact him.
Favorite part of Miami
First, I would say the professors because it's a mid-size university, so it doesn't feel like high school all over again, but it's small enough that they know your name. Most of my upper level classes have about 15 people in them, and others may have more, but not usually more than 30. I think our professors go out of their way for you. I know many that I can email them at 10 or 11 pm and they'll usually email back quickly. They're always willing to work around my ridiculous schedule.
Also, I would just say the community here because Oxford is a community in itself. I live here year-round and spend summers here, so I appreciate that.
Balancing activities
Balancing all of my activities is challenging, but it just takes time management and they all kind of support each other. I'm a resident assistant (RA), which means that I have to be available in my room when on duty and I use that time for homework. And since I'm an athlete and I know I'm traveling and competing, there is no time to procrastinate. Things need to be scheduled or they don't get done.