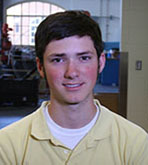 Class of 2015
Major: Mechanical Engineering
Hometown: Wayland, Massachusetts
Hands-on learning
I participated in Project High Flights, which is a group of about 38 students. We worked on sending up a high-altitude balloon to reach near space. I think the best part of the project was the hands-on learning, especially for me because I am not a reader or a writer. It also had a collaboration aspect to it that makes learning so much easier and so much more enjoyable. As a team, you build upon others' ideas and come together to collaborate on what needs to get done.
Engineering at Miami
The best thing about SEAS is the resources they provide. The labs and classrooms are open to you all the time, and you can always get in there and work on a project. This is really crucial for times when you can't work on a project during the week and you can work on it the weekends or late at night because it is always open. Miami University and SEAS also provide you with anything you need to start something like Project High Flight.
Another great thing is the professors. Bob Setlock, mechanical and manufacturing engineering professors, shows his enthusiasm by the way he presents everything. And every time you see him he is always excited to see you and ready to work on the project. He doesn't hesitate on any of our ideas and he really gives us the opportunity for us students to do what we want to do.