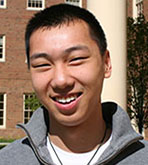 Class of 2014
Majors: Accountancy, Finance
Hometown: Lakewood, Ohio
Working with nationally recognized faculty
I worked with Dr. Tim Greenlee, marketing professor, during a case competition. He was always willing to help and even invited the team along with the dean of the Farmer School of Business to his house for dinner. His work style is focused, but he takes the time to wind down and reflect on what you've accomplished. He's also good at motivating you even if your answer is wrong.
Is going to class beneficial?
My research partner felt that class wasn't always beneficial. He thought he could get good grades just by reading on his own. We took this problem and wanted to see if we could find an answer by determining the best attendance policy. I'm interested in looking into this topic further though because our sample size was small - we only talked to 14 professors. We found that professors who know their students on a more personal level give their students the incentive to attend and that there usually isn't an attendance problem in the smaller classes.
Doing research allowed me to apply what I was learning in class to the real world. It was great. I also think I've improved my professionalism and communication skills. We ultimately discovered that one policy won't work for all classes, but that we still need to do more research on the topic.
Studying abroad in China
I went to Tianjin, China during summer 2011 with a program offered by the Department of German, Russian, and East Asian Languages. I took both language and cultural courses in China. We were also able to take weekend trips to non-vacation spots, which was a good experience. The different lifestyle in China stood out to me the most. The dorms were different as well and everything was so crowded with people rushing everywhere. But people were very friendly and always willing to help us. I'm planning to return to China in spring 2013 with a business program.