Recreation and Sports
Public Skating at Goggin Ice Center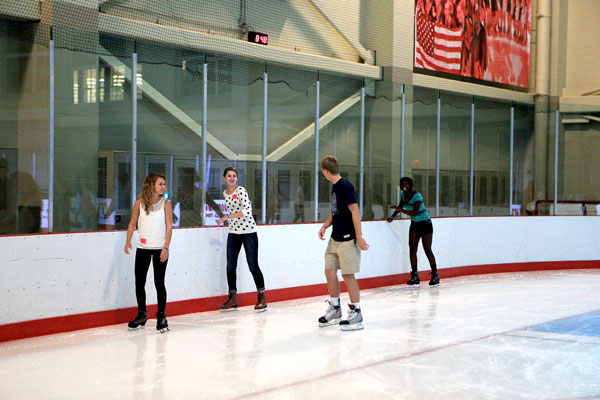 Public skating at Miami University's Goggin Ice Center is a fun and affordable activity for people of all ages.
Miami University
RedHawks Athletics
Purchase tickets for all Miami athletic events, find out about summer youth camps, and learn why Miami is known throughout the sports world as the "Cradle of Coaches."
Recreational Sports Center
Memberships for community, faculty/staff and students. Family-oriented activities include summer camps for children, youth climbing club, community intramural sports, the Aquatic Center's Red Cross Learn to Swim program and MAKOS swim and dive team for area youth.
Goggin Ice Center
Offering ice related activities including public skating, 'Learn to Play' programming for both skating and hockey, competitive figure skating through the Miami Skating Academy, travel hockey leagues within Miami Youth Hockey, adult hockey teams and summer camps for hockey, figure skating and synchronized skating.
Natural Areas
Located around the campus, the Miami University Natural Areas comprise over 1000 acres with 17 miles of hiking trails.
Oxford Area
Oxford Parks and Recreation
Oxford boasts many community parks and facilities. The TRI Community Center Complex, located at 6025 Fairfield Road, houses basketball courts inside and out, a baseball diamond, picnic shelter, outdoor grills, outdoor pool, skate park, a preschool playground, and a school-age play structure. Programs include summer camps, after school child care programs, and youth sports.
Oxford Country Club
6200 Contreras Rd, Oxford
9 hole golf course and pool
Indian Ridge Golf Club
2600 Oxford Millville Rd, Oxford
18 holes sculpted from gently rolling terrain
Hueston Woods State Park (5 miles from Oxford)
6301 Park Office Road, College Corner, Ohio 45003
18 hole championship golf course, plus nearly 3,000 acres of natural resources for outdoor recreation such as hiking, fishing, canoeing, and fossil hunting. The park surrounds 625-acre Acton Lake, with campsites, cabins, and a resort lodge.
Hannon's Camp America (5 miles from Oxford)
8501 Camden College Corner Rd., College Corner, OH 45003
26 acre private campground
Perfect North Slopes (32 miles from Oxford)
19074 Perfect Lane, Lawrenceburg, IN 47025
23 ski trails, ranging from beginner to expert.
Professional Sports
Cincinnati Area
Includes the Cincinnati Reds and the Bengals, plus Cincinnati Cyclones hockey (ECHL)
Dayton Area
Includes Dayton Dragons (minor league baseball) and Dayton Dutch Lions (futbol), among others