Why I Chose My Major: History
Casey Senay is a sophomore History Major with a minor in Spanish. Last spring, Senay won the Women's History Month prize for best essay for her paper titled "Wonder Woman: The Matriarch of the Feminist Movement or the Appeasement of It?"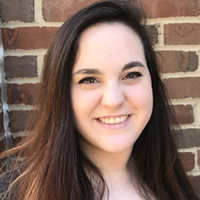 Why did you decide to become a history major?
I decided to become a history major because I have loved history all my life. Even as a young kid I would love for my father to tell me fun history facts and to sit with him and watch long documentaries that the rest of my family hated. To me, history is like a great, never ending story. After meeting some incredible history teachers, I decided that I could pursue one of my greatest loves by majoring in history and they all encouraged me to do so. I decided to be a history major because it was the only major that ever seemed to make sense for me and I want to add my thoughts and opinions into the ever-changing conversation that is history.  
How does the history major complement your future professional goals?
Being a history major complements my future goals because for almost as long as I can remember I have wanted to be a history teacher; the only problem was I did not know who I wanted to teach. Being a history major gives me the option to choose which teaching route I want to take, whether it is teaching high school or college. Being a history major also gives me more diversity in my future just in case I choose to go into law or politics; a history major is something that can complement both of those fields and many others. 
What would you say to someone considering a major in history?
It is a great major that can lead into so many different fields and experiences. History majors are some of the brightest and nerdiest majors around, and they are all the better for it. For anyone wanting to be a history major you should stick with it and bring your individuality to the constantly growing table of historians.